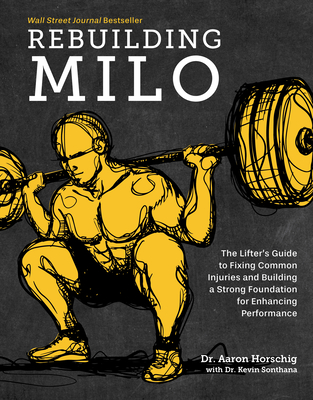 Rebuilding Milo
A Lifter's Guide to Fixing Common Injuries and Building a Strong Foundation for Enhancing Performance
Hardcover

* Individual store prices may vary.
Description
Every athlete who spends time in the weight room eventually deals with pain/injury that leaves them frustrated and unable to reach their highest potential. Every athlete ought to have the ability to take the first steps at addressing these minor injuries. They shouldn't have to wait weeks for a doctor's appointment, only to be prescribed pain medications and told to "take two weeks off lifting" or, even worse, to "stop lifting so heavy." Dr. Aaron Horschig knows your pain and frustration. He's been there. For over a decade, Dr. Horschig has been a competitive weightlifter, and he understands how discouraging it is to tweak your back three weeks out from a huge weightlifting competition, to have knee pain limit your ability to squat heavy for weeks, and to suffer from chronic shoulder issues that keep you from reaching your goals. Rebuilding Milo is the culmination of Dr. Horschig's life's work as a sports physical therapist, certified strength and conditioning specialist, and Olympic weightlifting coach. It contains all of the knowledge he has amassed over the past decade while helping some of the best athletes in the world. Now he wants to share that knowledge with you. This book, designed by a strength athlete for anyone who spends time in the weight room, is the solution to your struggles with injury and pain. It walks you through simple tests and screens to uncover the movement problem at the root of your pain. After discovering the cause of your injury, you'll be able to create an individualized rehab program as laid out in this book. Finally, you'll be on the right path to eliminate your pain and return to the activities you love.
Praise For Rebuilding Milo: A Lifter's Guide to Fixing Common Injuries and Building a Strong Foundation for Enhancing Performance…
"This book is remarkable, both for its content and for the change in paradigm it represents. It is altogether typical of Aaron and his drive to share his considerable success in helping people untangle the complexities of their pain and movement problems."
— Dr. Kelly Starrett

"Aaron's diverse knowledge base and in depth understanding of the human body has been a huge boost to my performance. From helping me stay healthy to advanced technique and training tips, he is an incredible resource for any athlete."
— Blaine Sumner

"Dr. Horschig is truly driven to help each individual to their highest potential. His content is easy to digest and apply. I've personally benefitted as an athlete, coach, and professional from his work and I'm confident you will too!"
— Chad Vaughn

"After competing in World's Strongest Man for four consecutive years and claiming the championship title in 2019, my body's been beaten up. Aaron has helped me identify muscular deficiencies and imbalances, and created a movement based routine to get back into good health and push my strength forward again. It's clear as night and day, Aaron's work far surpasses any other methods I've tried & I'm entirely grateful."
— Martins Licis
Victory Belt Publishing, 9781628604221, 400pp.
Publication Date: January 19, 2021
About the Author
Dr. Aaron Horschig is a sports physical therapist, Olympic weightlifting coach, strength and conditioning specialist, and author of the bestselling book 'The Squat Bible.' As the founder of SquatUniversity.com, Aaron shares his innovative approach to help millions of athletes and coaches across the world move better, decrease their aches and pains, and reach their true athletic potential. As a physical therapist, he works with elite level Olympic weightlifters and powerlifters, athletes from the NFL and MLB, and international level soccer players. Aaron lives in St. Louis with his wife Christine.