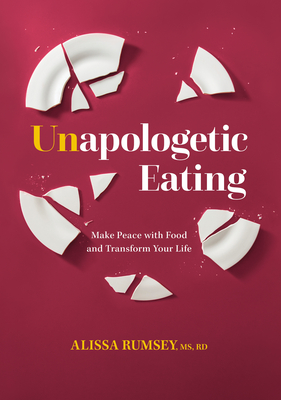 Unapologetic Eating
Make Peace with Food and Transform Your Life
Hardcover

* Individual store prices may vary.
Description
Most women have spent time dieting and trying to change themselves in order to fit into a mold—and a body—that is deemed socially acceptable. Yet it is dieting that is the problem: it disconnects us from our bodies wisdom and holds us back from living life to the fullest. The more time we spend trying to "fix" ourselves, the less time we have for the things that really matter. What presents as a problem about food is, in reality, much deeper and more complex. In her new book, Unapologetic Eating: Make Peace with Food & Transform Your Life, registered dietitian and certified intuitive eating counselor Alissa Rumsey helps you explore your history with food and your body and question societal expectations to get to the bottom of the complexity and find a clear path forward—forever free from diets! Using a relatable four-step approach, Rumsey teaches you how to reconnect with your body using your relationship with food as the entry point. She provides actionable tools you can use to confidently nourish yourself physically, mentally, and emotionally. You'll learn how to make peace with food, improve your body image, trust your intuition, and reclaim the space to eat and live unapologetically. Say goodbye to the constraints of dieting and hello to the freedom and empowerment to live your most fulfilling life.
Praise For Unapologetic Eating: Make Peace with Food and Transform Your Life…
"This is a wonderful and comprehensive resource for healing your relationship with food. Unapologetic Eating is going to help you honor your inner wisdom and find freedom. If you are sick of the exhausting diet cycle, read this book!"
— Caroline Dooner

"Eating is one of the great joys of life! But when diet culture makes you question every bite of food in the name of "health," you need to take a complete 180. Rumsey's Unapologetic Eating offers the science, stories, and tools to step you through the process of finding food freedom with kindness. She teaches you how to eat unapologetically by questioning everything you've believed and bring back a joyful relationship to food and your body."
— Rebecca Scritchfield

"Wow! This book delivers way more than it promises. It's actually a guide to life and liberation, one bite at a time. Unapologetic Eating? More like unapologetic LIVING. In other words: I loved it. You will, too."
— Kelly Diels

"Alissa Rumsey's Unapologetic Eating is more than an exposé of the harmful shapeshifter that is diet culture. It is a practical tool to unlearn and ultimately heal from the faulty programming that causes us pain and confusion and a hands-on guide to reclaiming body trust and becoming truly embodied. The book's sections touch on the myriad facets of body image and our relationship with food and then the reflection questions support readers to expose and understand their own unique thoughts, beliefs, and behaviors so that they can be examined, reframed, and reimagined to align with their true values."
— Jenna Hollenstein, MS, RDN, CDN

"Unapologetic Eating is a brilliant and exceptionally well researched read, an important and much needed addition to the anti-diet space. Alissa Rumsey dives deep into the problematic history that's fueled our modern diet culture, and it's obsession with controlling women's bodies and what they eat. With nuance, compassion, and humor, Alissa provides tools and practical advice to untangle ourselves from diet cultures' web of deception, and truly make peace with food and our bodies."
— Rachael Hartley, RD

"Alissa Rumsey brings both her rich personal experiences and professional expertise to the pages of Unapologetic Eating. Her four-phase framework is the multifaceted approach we need to understand the nuanced ways in which we are indoctrinated into diet culture, on both an individual and cultural level. Readers will walk away from these pages with tools, knowledge, and confidence that they can too can start to eat unapologetically, and live unapologetically."
— Cara Harbstreet, MS, RD, LD

"If you are tired of the endless pursuit of "fixing" your weight, shape, and/or physical appearance, then Unapologetic Eating is for you! This book both dismantles the colonialist roots of diet culture and provides practical tips for healing your relationship with food and your body. A must-read for anyone who is feeling trapped in diet culture and wanting to live a better and more fulfilling life-- on their own terms."
— Jessica Jones, MS, RD, CDE

"This is exactly the book that we need to take us from "huh?" to "aahhhh!" when it comes to navigating our relationship with food, eating, and our body. In Unapologetic Eating, Alissa has done a brilliant job of supporting us to unpack the suitcase, take a compassionate and curious look around, then re-pack it in ways that make sense to US. This will be a go-to on my bookshelf for sure."
— Fiona Sutherland
Victory Belt Publishing, 9781628604252, 400pp.
Publication Date: February 16, 2021
About the Author
Alissa Rumsey MS, RD, CDN, CSCS is a nationally recognized registered dietitian nutritionist and Certified Intuitive Eating Counselor who is passionate about empowering women to reclaim the space to eat and live unapologetically. She is the founder of Alissa Rumsey Nutrition and Wellness, a weight-inclusive practice that offers online programs and virtual counseling to help people break out of the dieting cycle and cultivate a healthy and peaceful relationship with food and their bodies. She is a monthly contributor to US News and World Report and frequently shares her expertise in national media outlets. Alissa also presents regularly about intuitive eating and the weight-inclusive approach at events, online trainings and professional conferences around the country. Alissa calls New York City home and spends her free time exploring the city's food scene and searching for patches of green space to sunbathe in.
or
Not Currently Available for Direct Purchase