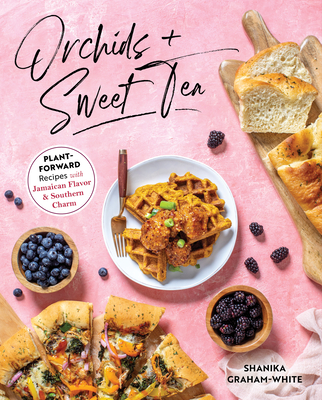 Orchids & Sweet Tea
Paperback

* Individual store prices may vary.
Description
Adopting a plant-forward diet doesn't mean that you'll be eating a lifetime of meals that are primarily steamed broccoli and plain rice because eating healthy doesn't mean that food has to lack flavor. In Orchids + Sweet Tea, recipe developer and food stylist Shanika Graham-White shows you that plant-forward meals can be delicious, bold, and flavorful. You just have to be willing to be creative and treat food as art. Whether you're a home cook or a skilled chef, the more than 120 recipes in this book will help you make everyday comfort food recipes to nourish your family as well as unique, artful dishes for special occasions that call for more flair. This beautiful book celebrates the idea of turning old and new favorites into healthier options that everyone can enjoy while honoring a plant-forward approach to eating. Sample recipes include: -Leftover Jerk Chicken White Cheddar Scallion Scones -Hot Maple Cauliflower Bites + Sweet Potato Flourless Waffles -Rum + Raisin Bread -Buffalo Chickpea Kale Salad -Cajun Sweet Potato Rigatoni Pasta -Carrot, Sweet Potato, Pineapple, + Ginger Juice -Apple Cinnamon Tea -Cheddar Triple Apple Pie
Victory Belt Publishing, 9781628604412, 380pp.
Publication Date: October 26, 2021
About the Author
Food Stylist + Recipe Developer, Shanika, is part kitchen 'ninja' and connoisseur of interior decorating (hence her passion for beautifully staged food photos). She is a self-taught cook | baker, who decided to create her blog, Orchids + Sweet Tea to be the source for comfort food and sweets, with a healthy twist. She desires to help others turn the 'little' that they have into something magical---great food! On her blog, you will find dairy-free, gluten-free, and vegan versions of your old + new favorites! While she doesn't come from a line of cooks, one of the main ways that her family often came together while growing up was through food, music, and laughter which inspired her to create a space that both uplifts and feeds those who choose to visit her little corner of the web. Later in life after having her own family, she began experimenting even more with foods (as opposed to keeping things entirely traditional with Jamaican or Southern dishes) and stumbled upon a real passion for creating foods and thus Orchids + Sweet Tea was born. Before she knew it, a small audience of friends and family began to form and taking in process photos while creating a work of art with food became a consistent thing for her.