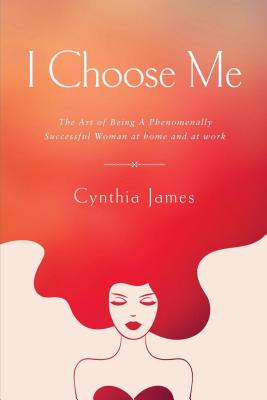 I Choose Me
The Art of Being a Phenomenally Successful Woman at Home and at Work
Paperback

* Individual store prices may vary.
Description
This book is for any woman who wants to live a BIGGER life. It is for you if you are feeling a call to bring your voice to the world, your community, your relationships or your career. The women we admire today got to where they are because they had a vision, they activated their creativity, they up-leveled their skill sets, and they dared to be bold. They are not the exception. I Choose Me includes narration from the author, tools and exercises to support the reader in a holistic approach to living a thriving, powerful and joyous life, and contributions from women who have dared to step out and claim their freedom.Take-Aways from I Choose MeLearn to Create the Life of your DreamsExpand Visibility on the World StageEstablish Health in RelationshipsRe-learn the Power of PlayCreate Powerful and Engaged Teams
Praise For I Choose Me: The Art of Being a Phenomenally Successful Woman at Home and at Work…
"You can trust her words because she's telling the truth. You'll feel it in your cells. Cynthia James is a truly gifted leader who will lead you back to the best of you. She did it for me, and I'm certain she will help do the same for you. Now is your time. Choose I Choose Me and make the most courageous choice you can make as a human being, and woman, today." — Sonya Choquette, New York Times Bestselling Author
"I Choose Me is for any women who is looking for more balance and fulfillment in every area of her life. Cynthia James o ers practical tools, heartwarming stories, and powerful exercises that can help you experience radical self-care and mind/body nurturing. If you're ready to 'choose you,' this book is a must, and this is your time!" — Marci Shimo , #1 NY Times bestselling author of Happy for No Reason and Chicken Soup for the Woman's Soul
"'You are the most important person in your life.' ...and with those words, Cynthia James captures the essence of self transformation. First deal with yourself, experience self compassion, build your accountabil- ity muscle...and then you can be present to the world, to be your best self, to step past fear toward a life fulfilled. Cynthia is a transformational leader who lays down the challenge, invites you to step up, and allows deep vulnerability... for that is where you hold your courage to live the life you want. I Choose Me is a beautiful blueprint, one you will return to again and again throughout your life." — Cheryl Esposito, CEO, Alexsa Consulting and Author, In the Spirit of Leadership : A Vision Into A Di erent Future
Authors Place Press, 9781628652826, 196pp.
Publication Date: June 1, 2016
About the Author
Cynthia is a transformational specialist and one of today's brightest and best loved inspirational leaders, guiding people to make changes at a deep level for lasting healing. Cynthia excels as a speaker, coach, singer, and multiple award-winning author of What Will Set You Free and Revealing Your Extraordinary Essence and #1 Bestseller for I Choose Me: The Art of Being a Phenomenally Successful Woman at Home and at Work. Cynthia James embodies the quote "I am not what I have done. I am what I have become;" and, she leads others to do the same. Her own life was transformed as she transcended a violent and abusive childhood. Through education and personal healing, she created the foundation for all her programs. Ms. James has facilitated hundreds of workshops, seminars and keynotes, including: Omega Institute, Celebrate Your Life, Woman Arising, the Gift in Shift, the Colorado Behavior Healthcare Council, the Women's Success Forum, the Children's Hospital, Spirit One Seminars, LeadingAge, and many others. Cynthia's most recent programs and tools include: Advanced Awareness Coaching, offering depth, focus and results for high level business leaders; and, Affirmative Living, which includes a meditation CD, Passages, and an APP for iPhones and Droids, 100 days of Affirmative Living, in English and Spanish.Cynthia was once a working Hollywood actress, co-hosted a radio talk show, a television talk show in Los Angeles, and appeared in the movie, Sacred Journey of the Heart. She is a former Miss Minnesota Universe, sought after as a radio guest and is a contributing blogger for YourTango.com. Thousands follow her monthly inspirational videos and her monthly newsletter and blog. Cynthia has uniquely combined the creative arts with innovative therapeutic techniques to bring powerful personal growth, healing and expansion to individuals of all ages, cultures, and lifestyles. She facilitates the message of her award-winning books, What Will Set You Free and Revealing Your Extraordinary Essence, worldwide and as a workshop to women in prisons. Internationally, she has led workshops in England, Switzerland and Ireland; and, she has led a myriad of pilgrimages to various spiritual locations in France, Peru and Italy.In 2012, Cynthia created and facilitated the internationally successful Venus Transit University, reaching over 8,000 people. In 2014, she and her husband of 16 years, Carl Studna, created and co-hosted Bridging the Gender Gap Teleseries, focusing on developing trust and understanding between men and women. Also in 2014, her Extraordinary Living Project was selected to be a Commitment Maker by the Clinton Health Matters Initiative. In the same year, she founded her Extraordinary Living Foundation whose mission is creating sustainable health for women in mind, body and spirit. In 2015, Cynthia and her business partner, Jean Hendry, created the Women Creating Our Futures conference featuring nationally and internationally recognized speakers, life coaches and artists guiding hundreds of women to build the life and future they both desire and deserve.Cynthia holds two Master's Degrees, the first in Consciousness Studies from the Holmes Institute, where she was awarded the honor of distinguished alumni. The second is in Spiritual Psychology from the University of Santa Monica.Cynthia James is personally committed to utilizing creative expression as a vital and effective healing modality that will assist everyone in their own personal and professional growth. For more information about Cynthia and her work, visit: www.cynthiajames.net.