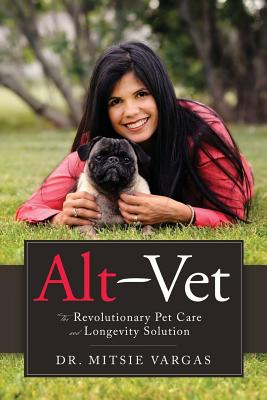 Alt-Vet:The revolutionary Pet care and Longevity Solution
Paperback

* Individual store prices may vary.
Description
Alt-Vet- The Revolutionary Pet Care and Longevity Solution. explores the alternative therapies that are available to your pet through a network of alternative veterinary medicine practitioners throughout the country, but offers some simple and safe therapies you can do at home with your pet that will them maintain a high level of health and happiness. TCVM is not some new concept- it has been practiced for thousands of years, yet surprisingly, many Americans have not heard of it or tried it with their pet. Alt-Vet contains real life stories of animals that have been brought to my clinic by pet owners that were looking for some hope of saving their animal, reducing their pain, and increasing their quality of life. Many of those pet owners come in skeptics and leave believers. Alt-Vet offers chapters on pet massage, healing diets, and emergency response care. The techniques offered are low cost and simple to implement. It is the goal of this book to inspire pet owners to embrace a holistic lifestyle for their pets and in the process to extend their furry companions' quality of life.
Praise For Alt-Vet:The revolutionary Pet care and Longevity Solution…
When I started working with Dr. Vargas I was a little skeptical about Acupuncture and Chinese Medicine. But I witnessed the power of these modalities in my 8-year-old Border Collie, who I was close to retire from agility competitions. After a few sessions of Acupuncture and the Herbal Qi performance, the same dog got the third place in the National US Open in Perry, GA. Alt-Vet is a great way to introduce thousands of dog lovers to the power of Alternative Medicine and to give them positive action steps to get their dogs living healthier and longer.~ Marco Magiolo, Animal Behaviorist, and Dog trainer - -

As a Director of a No-Kill shelter, I am always looking for ways to prevent outbreaks of disease and to manage chronic conditions on a shoestring budget.Our shelter mascot got a grand mal seizure and Dr. Vargas used herbals and acupuncture and he never had an issue again. he previously was paralyzed and acupuncture got him walking. So when I read Alt-Vet I was excited to know that millions of pet owners will now get to learn about alternative ways to care for their pets. Better yet, they will learn tips they can really use at home!~Lisa Baker, Executive Director of the Humane Society of Polk Co. - -

am almost sure readers will have a good chuckle when they read Chapter 4 - Healing with Intention in "Alt-Vet". That's because most do not understand where this healing intention comes from. Its from a very ancient Chinese text, the Ling Shu (Celestial Pivot or Spiritual Axis) Chapter 1 "9 Needles 12 Source Points" and it exhorts all Chinese physicians and veterinarian to uphold the following:"The principle of using these fine needles is easy to say but difficult to master.Ordinary skills of acupuncture maintain the physical body;high skills maintain the spirit, use the spirit to reveal the spirit ..."All in all, Alt-Vet is about a book of hope and inspiration.Amazon review by chinpohfoong - -
Authors Place Press, 9781628653922, 170pp.
Publication Date: May 1, 2017
About the Author
Dr Vargas received her DVM from Tuskegee University in 1994. In 1996 she established her AAHA accredited Orchid Springs Animal Hospital in Winter Haven, FL. In 2009 she started her studies at Chi Institute, eventually garnering certifications in Acupuncture, Chinese Herbal Medicine, Food Therapy, and Tui Na. She teaches at Chi Institute in both Florida and Costa Rica campuses and has worked as a consultant for Disney Animal Kingdom.Dr. Vargas is also a sought out speaker and has presented at the Ferret International Congress in 2008, AVMA convention in 2011, the World TCVM Congress in 2015 & 2016 and the American Academy of Veterinary Acupuncture Congress 2017. She is a certified veterinary journalist and has published hundreds of articles including her Monthly Lakeland Ledger newspaper pet care column. Dr. Vargas is a prolific author of both scientific and motivational articles. She is a guest blogger for www. Allthingshealing.com and a writer for Woman to Woman Magazine. She also wrote a chapter on Jack Canfield's Amazon Bestseller book "The Soul of Success". She served as an AVMA Spokesperson for Hispanic market and has recorded PSA and radio interviews promoting responsible pet ownership. Her love for Traditional Chinese Veterinary Medicine is evidenced in her forthcoming book Alt-Vet: the revolutionary pet care and longevity solution,Her passion for helping animals and her voluntarism has awarded her state and national recognition. Among her awards is the Purina National Pet Care Award, Bay News 9 Medical Hero Award, Winter Haven Chamber of Commerce Business Award, Bright House Regional Business Finalist, Girls Inc "She knows where she is going Award" and the FVMA Gold award. She was honored by the American Veterinary Foundation as "America's Favorite Veterinarian" in 2015.She lives in sunny Winter Haven, Florida with her husband, two teenage daughters and a menagerie of pets!
or
Not Currently Available for Direct Purchase