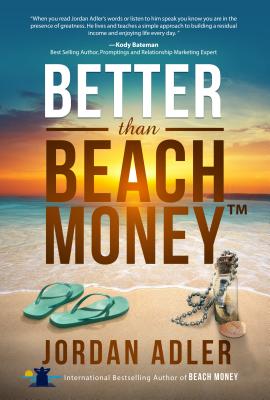 Better Than Beach Money
Paperback

* Individual store prices may vary.
Description
What if there was a secret road or a less traveled pathway to your dreams? One that was 100 times shorter and one that required little-to-no struggle? What if this path became ridiculously obvious once someone pointed it out? Sometimes by simply shifting your viewpoint, invisible things will become visible and new opportunities to rapidly reach your dreams will appear. Have you ever noticed that breakthroughs in business are occurring at light speed all around us as a result of entrepreneurs that have chosen to see the world through a different set of lenses? In Better Than Beach Money, Jordan Adler shares real life stories that will help you to view your life from a different angle. From this new point of view, you will discover roads and pathways, and see opportunities that can cause your dreams to materialize almost instantaneously. You will realize that you don't have to wait. You can begin to stray from that long, tedious path to achieving your goals and embrace a new way that can take you there much quicker. Most personal development trainers and efficiency experts propose writing down your dreams and taking daily action towards them. 
Praise For Better Than Beach Money…
"Jordan is a regular guy with big dreams. And he's not afraid to take risks to impact more people. He sets an example worth following. He is a network marketing professional." — Eric and Marina Worre, Network Marketing Pro
Author of #1 Best Seller, GoPro
Seven Steps to Becoming a Network Marketing Professional
"I had heard of Jordan Adler before we met in person. The day we met I knew that he was up to some big things and I wanted to get to know him better.  We have traveled the world together and spoken on many of the same stages. If "Better Than Beach Money" is half as good as his first book, "Beach Money" its worth the read!" — Todd Falcone, The Fearless Networker, Network Marketing Author, Speaker and Trainer
"I have been in business with Jordan for over 10 years and he not only talks the talk, he walks the walk. Jordan is responsible for helping thousands of home based entrepreneurs on their road to success. Jordan wins in life not because he is exceptionally good. He has become good at what he does over the years. But his success formula works because he is  the most consistent entrepreneur you will ever meet. He does not have quit in him." — Kody Bateman, Founder and CEO, SendOutCards.com
"My husband Thomas and I have traveled all over the world with Jordan and others. We talk over dinner, fires on the beach, overnight ocean excursions and other adventures about what a secret opportunity we possess that we wish more people would embrace. We share a common philosophy that when you do the right things, good things happen to you. Jordan wakes up every day appreciating life and looking for the next person that he can touch in a positive way." — Donna Johnson, 30 Year Network Marketing Professional, Top Earner and Global Leader
"Jordan Adler has been asked to write forewords and testimonials to over 30 books. He has been quoted and mentioned in too many books to count. He is leaving  a legacy of inspiring stories and examples that anyone can learn from. I always enjoy having Jordan as a guest on our podcast, 'MLMNation' He always leaves our audience wanting more." — Simon Chan,"The Oprah of MLM" and founder of MLM Nation
Authors Place Press, 9781628654509, 174pp.
Publication Date: March 7, 2018
About the Author
Best Selling Beach Money™ author Jordan Adler has created a seven figure income in his current network marketing enterprise and has personally inspired thousands of people to achieve remarkable success through network marketing. He currently travels the U.S. and Canada motivating his team to reach their personal and financial dreams and training distributors on the simplicity of growing a successful business. Beach Money is more than a book - it's a lifestyle that Jordan believes everyone can fulfill. It's possible for everyone to live the life of their dreams from the beach, or the location of their choice. "Your biggest breakthrough to creating your Beach Money life is knowing that it is possible for you," says Jordan. "Beach Money will show you what's truly possible and most importantly that you can do it."