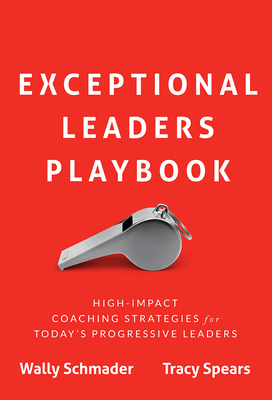 Exceptional Leaders Playbook
Hardcover

* Individual store prices may vary.
Description
The Exceptional Leaders Playbook will be an important resource for managers and leaders who want to improve their skills and results. The book is full of immediately actionable tactics and strategies designed to help progressive leaders develop themselves and their teams. These ideas and strategies have worked for hundreds of top-performing leaders.
Authors Place Press, 9781628654639, 250pp.
Publication Date: March 15, 2018
About the Author
Wally Schmader has over 20 years of successful hands- on experience developing and leading high-performance teams. He has worked successfully with senior executives, middle managers and front-line leaders and managers.
 
He is a highly-regarded leadership coach and described many of his strategies and insights in his first book which was published in 2006 entitled 'Full Contact Leadership: Dynamic New Ideas & Techniques for Today's Leaders'.
 
Wally has been interviewed by Fortune Radio, and been a featured speaker at many conferences, forums and webinars.
Tracy Spears has coached thousands of professionals through conferences, webinars, broadcasts, and videos. Her energetic and interactive approach has helped leaders and aspiring leaders all over the world to improve their leadership skills, their communication, and their understanding of how people and organizations succeed. She is the co-author of best-selling "What Exceptional Leaders Know" and "The Exceptional Leaders Playbook". Tracy is the Co-Founder of the Exceptional Leaders Lab, a worldwide community of progressive business leaders focused on making a positive difference in their organizations.