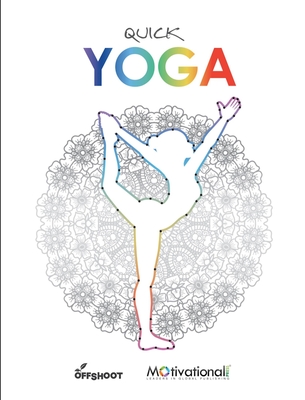 Quick Yoga
Paperback

* Individual store prices may vary.
Description
Is it only the physical body that human beings have? This book on Yoga will open up to readers, the various levels of existence that lie within the sheath of the human body. Yoga is not only about exercises and breathing techniques?it is about discovering the way to the transcendental state of peace and happiness. This book will pull the reader out of the cobwebs of the materialistic world and through various activities, offer methods to upgrade themselves to a positive mindset and a positive approach to life.
Authors Place Press, 9781628655780, 96pp.
Publication Date: April 2, 2019
About the Author
Motivational Press is a global leader in the field of general interest publishing, dedicated to providing the best in nonfiction for consumers of all ages, across all printed, electronic, and audio formats. Motivational Press is a broad-based publisher with strengths in business books, self-help books, health, wellness, sports, narrative nonfiction, reference, pop culture, design, and religious and spiritual books. Motivational Press is consistently at the forefront of innovation, using digital technology to create unique reading experiences and expand the reach of its authors.  Its divisions include Motivational Press Adult Publishing, Motivational Press Children's Publishing, Motivational Press Audio, Motivational Press Digital and international companies in Australia, Canada, Germany, Brazil and the United Kingdom. For more information, visitwww.MotivationalPress.com.  
Offshoot - off the 'sense'- the no offense brand brings for you books that are "fresh", "whimsical" and "sophisticated".
A wonderful hybrid of a wide range of activities lures the reader to indulge in the unexpected. Extensively researched and comprehensively structured - the unconventional series of books will take you down the memory lane with every stroke and tick, refreshing your mind with the stimulating and thrilling activities. Doodle and express your feelings as you reacquaint yourselves with the charm of everyday life. The fifty shades when combined together on a sheet, will transcend you to a surreal world. Splashes of brilliance make travel, home, food, love - even workouts - seem exciting.
Off-load your worries, your troubles, and your anxieties as you work off-line and off-screen on our books. Veer away from the course of your daily grind and explore the paths and byways of excitement and adventure. The offbeat and novel range of products offer a quilt of creativity for the soul which will surely invigorate and exhilarate your senses. The recipe is simple and the ingredients are iconic characters, intriguing stories, and free space to scribble in the jotter. 
or
Not Currently Available for Direct Purchase