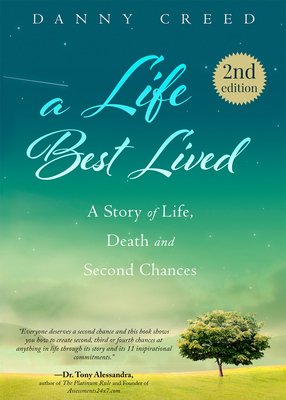 A Life Best Lived
A Story of Life, Death and Second Chances
Paperback

* Individual store prices may vary.
Other Editions of This Title:
Paperback (9/8/2016)
Description
Imagine being told that you have less than 48 hours to live, give or take. What would you do, given a second chance? Would you even honor your "second chance?" The latest book by Real World Business Coach, Danny Creed details his life when faced with these questions, beginning a journey of self-evaluation and discovery that transformed the way he thought, spoke and acted from that moment on. A triple by-pass heart surgery, a near-death experience and the devastating death of his mother all in a 24-hour period set in play a chain reaction of experiences that would, in the end, create positive and powerful results. How do you honor a "second chance?" This powerful book reveals Eleven Commitments that anyone can implement to change how they think, speak and act. The revealing premise defines what every person has available to them: the power to award themselves a second chance, to do things differently or not. And, that's the decision that is the hardest. Readers will learn that it's not so much what you can do to live a better life, it's more about honestly asking yourself the question, "Do you really want a better life?"
Authors Place Press, 9781628656367, 174pp.
Publication Date: September 10, 2019
About the Author
He is known for his "street fighting business smarts", 14 successful start-up businesses and his powerful connection with world class partners and resources. Coach Dan has over 8,000 hours of logged coaching time with over 9,000 recommendations. Dan is the unprecedented six-time winner of the Brian Tracy Award of Sales Excellence/ FocalPoint Coaching International Business Coach of the Year. Danny is a leading authority on business and personal development, a highly regarded Keynote speaker; workshop and seminar leader and an elite Brian Tracy International Certified Sales Trainer. In his first book, Coach Dan co-authored the highly acclaimed BOOTSTRAP BUSINESS along with international business and personal development experts, Tom Hopkins, Jack Canfield and John Christenson. A Life Best Lived: A Story of Life, Death and Second Chances is now available and sold worldwide on Amazon.com.