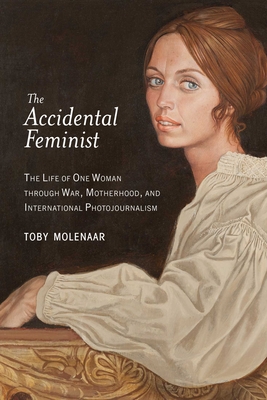 The Accidental Feminist (Hardcover)
The Life of One Woman through War, Motherhood, and International Photojournalism
Arcade, 9781628724103, 384pp.
Publication Date: May 6, 2014
* Individual store prices may vary.
Description
This is the story of an independent woman who is a model for our time—photographer Toby Molenaar. It begins in Holland during World War II, when her country is decimated by the occupying German army and she is literally left to starve. As a little girl, she learns to be self-sufficient—survival is the order of the day.

After the war, she finds love in Switzerland, marries, and starts a family. Her perfect life soon unravels however, when she meets the irresistible writer Fred Grunfeld, a foreign correspondent for Time, Life, and other magazines, and the new couple settles in Mallorca. Fred takes her along on his travels covering the world for various publications, from Alaska to Argentina, India, and China. Reinventing herself yet again, Toby learns her new trade as a photographer and becomes an eminent photojournalist.

When Husband Number Two leaves and her life in Mallorca evaporates, she is ready to carry on, taking on her own international assignments—until Husband Number Three enters the picture, in France, and a new child is born.
Courage, indomitable spirit, an open mind, and accountability only to herself are the stuff of this fascinating and inspirational story.

Skyhorse Publishing, along with our Arcade, Good Books, Sports Publishing, and Yucca imprints, is proud to publish a broad range of biographies, autobiographies, and memoirs. Our list includes biographies on well-known historical figures like Benjamin Franklin, Nelson Mandela, and Alexander Graham Bell, as well as villains from history, such as Heinrich Himmler, John Wayne Gacy, and O. J. Simpson. We have also published survivor stories of World War II, memoirs about overcoming adversity, first-hand tales of adventure, and much more. While not every title we publish becomes a New York Times bestseller or a national bestseller, we are committed to books on subjects that are sometimes overlooked and to authors whose work might not otherwise find a home.
About the Author
Toby Molenaar was born in Holland and moved to Switzerland after World War II.
Her photography has been featured in Life, Look, People, the Daily Telegraph magazine, and many other major publications. She is a member of both the American Society of Media Photographers and the Royal Photographic Society of Great Britain, is a founding member of the Image Bank, and took active part in UNESCO's Silk Roads Project in the 1990s. She is the coproducer and cameraperson of the documentary films Benjamin Franklin, Citizen of Two Worlds and Memories of Monet, which have received international awards. She has three children and lives in the United States and France.
Praise For The Accidental Feminist: The Life of One Woman through War, Motherhood, and International Photojournalism…
"This is the remarkable story of a survivor who grew up in war-torn Europe and surmounted impossible odds to become an eminent photojournalist.
Throughout this poignant, beautiful memoir, Toby Molenaar documents her adventures and her husbands, traveling the world on assignment. She never stops reinventing herself as wife, mother, and artist. Hers is a fascinating struggle to achieve both independence and love."

Patricia Bosworth, author of Jane Fonda: The Private Life of a Public Woman

"This is the remarkable story of a survivor who grew up in war-torn Europe and surmounted impossible odds to become an eminent photojournalist.
Throughout this poignant, beautiful memoir, Toby Molenaar documents her adventures and her husbands, traveling the world on assignment. She never stops reinventing herself as wife, mother, and artist. Hers is a fascinating struggle to achieve both independence and love."

Patricia Bosworth, author of Jane Fonda: The Private Life of a Public Woman