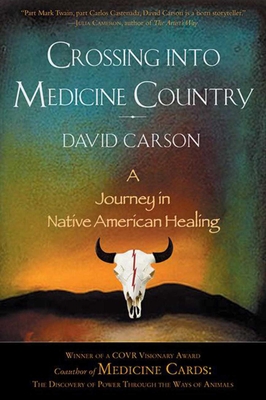 Crossing into Medicine Country (Paperback)
A Journey in Native American Healing
Arcade, 9781628724400, 336pp.
Publication Date: November 18, 2014
* Individual store prices may vary.
Description
Of Choctaw descent, David Carson has absorbed and sought out Native American spiritual knowledge since growing up in Oklahoma Indian country. He distilled some of that knowledge in his Medicine Cards, the hugely successful divination system based on traditional animal medicine that became a New Age best-seller in the 1990s. In Crossing into Medicine Country, he tells the story of his initiation as a conjure man—a ceremonial healer—with the Choctaw medicine woman Mary Gardener. For three years, he studied the art of power plants and medicine animals, how to manipulate the layers of energy surrounding human beings, and how to use sacred tobacco in ritual, curing, and divination.

Through Mary Gardener's teachings, often conveyed through folktales of the primordial healer Yellow Tobacco Boy, and through his own, sometimes mind-bending experiences, Carson gives us a glimpse into an alternative reality, in which health and illness express the balance between man and nature, and Western notions of physics do not operate. A fascinating narrative of self-discovery, here is a work rich in spirit and Native American lore that will appeal to anyone interested in alternative beliefs.
About the Author
David Carson was raised in Oklahoma Indian country and lived on Crow, Sioux, and Cheyenne reservations in Montana and Manitoba. A novelist and coauthor of "Medicine Cards: The Discovery of Power Through the Ways of Animals," he has lectured and given animal consultations and medicine card readings to thousands of people worldwide and worked with shamans from Siberia to Hawaii. He lives with his wife and twin daughters in Santa Fe, New Mexico.
Praise For Crossing into Medicine Country: A Journey in Native American Healing…
"Part Mark Twain, part Carlos Castenada, David Carson is a born storyteller. His tale is a rich broth of enchantment, wisdom, and holy mischief." —Julia Cameron, author of The Artist's Way

"In his Crossing into Medicine Country, David Carson sings a particularly American song. . . . His lively style, quiet wit, and sharp perceptions combine to show us that more ancient land that runs parallel to the one we think we live in, the one Indian people know is real. To read this book is to draw nearer to truths that transcend superficial facts. A great read." —Paula Gunn Allen, author of The Sacred Hoop

"Crossing into Medicine Country is just the recipe for our modern lives and a vital contribution in these changing times when people are looking to traditional shamanic knowledge to provide us with tools to guide us on our journey into the future. This is a work that will strike at the consciousness of many." —Lynda Hill, astrologer and author of 360 Degrees of Wisdom

"Crossing into Medicine Country is a rare account of a true transformational experience, which holds the key to profound healing. David Carson reveals sacred Native American knowledge in a unique, new way. Here is an exceptional opportunity to follow him on his journey through 'myths with hidden meaning and a deep touching of the soul.'" —Olga Kharitidi, MD, author of Entering the Circle and The Master of Lucid Dreams

"Part Mark Twain, part Carlos Castenada, David Carson is a born storyteller. His tale is a rich broth of enchantment, wisdom, and holy mischief." —Julia Cameron, author of The Artist's Way

"In his Crossing into Medicine Country, David Carson sings a particularly American song. . . . His lively style, quiet wit, and sharp perceptions combine to show us that more ancient land that runs parallel to the one we think we live in, the one Indian people know is real. To read this book is to draw nearer to truths that transcend superficial facts. A great read." —Paula Gunn Allen, author of The Sacred Hoop

"Crossing into Medicine Country is just the recipe for our modern lives and a vital contribution in these changing times when people are looking to traditional shamanic knowledge to provide us with tools to guide us on our journey into the future. This is a work that will strike at the consciousness of many." —Lynda Hill, astrologer and author of 360 Degrees of Wisdom

"Crossing into Medicine Country is a rare account of a true transformational experience, which holds the key to profound healing. David Carson reveals sacred Native American knowledge in a unique, new way. Here is an exceptional opportunity to follow him on his journey through 'myths with hidden meaning and a deep touching of the soul.'" —Olga Kharitidi, MD, author of Entering the Circle and The Master of Lucid Dreams
or
Not Currently Available for Direct Purchase