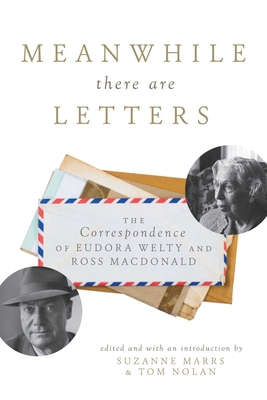 Meanwhile There Are Letters (Hardcover)
The Correspondence of Eudora Welty and Ross Macdonald
Arcade, 9781628725278, 568pp.
Publication Date: July 14, 2015
Other Editions of This Title:
Paperback (6/6/2017)
* Individual store prices may vary.
Description
*2016 Edgar Award Finalist*
*2016 Anthony Award Finalist*
*2016 Macavity Award Finalist*

In 1970, Ross Macdonald wrote a letter to Eudora Welty, beginning a thirteen-year correspondence between fellow writers and kindred spirits. Though separated by background, geography, genre, and his marriage, the two authors shared their lives in witty, wry, tender, and at times profoundly romantic letters, each drawing on the other for inspiration, comfort, and strength. They brought their literary talents to bear on a wide range of topics, discussing each others' publications, the process of translating life into fiction, the nature of the writer's block each encountered, books they were reading, and friends and colleagues they cherished. They also discussed the world around them, the Vietnam War, the Nixon, Carter, and Reagan presidencies, and the environmental threats facing the nation. The letters reveal the impact each had on the other's work, and they show the personal support Welty provided when Alzheimer's destroyed Macdonald's ability to communicate and write.

The editors of this collection, who are the definitive biographers of these two literary figures, have provided extensive commentary and an introduction. They also include Welty's story fragment "Henry," which addresses Macdonald's disease. With its mixture of correspondence and narrative, Meanwhile There Are Letters provides a singular reading experience: a prose portrait of two remarkable artists and one unforgettable relationship.
About the Author
Suzanne Marrs is Professor of English and Welty Foundation Scholar-in-Residence at Millsaps College. Her award-winning books about Eudora Welty include One Writer's Imagination: The Fiction of Eudora Welty (2002), Eudora Welty, A Biography (2005), and What There Is to Say We Have Said: The Correspondence of Eudora Welty and William Maxwell (2011), which she edited. She lives in Jackson, Mississippi.

Tom Nolan has been a freelance writer since age eighteen and has contributed to dozens of magazines and newspapers, including Rolling Stone, Ploughshares, and Oxford American. For twenty-five years he has reviewed crime fiction for the Wall Street Journal. Nolan's book Ross Macdonald: A Biography (Scribner, 1999)—for which he interviewed Eudora Welty—was nominated for the Edgar Award, the Anthony Award, and the Macavity Award (which it won). His most recent work is Artie Shaw, King of the Clarinet: His Life and Times (Norton, 2010, 2011). He lives in Glendale, California.
Praise For Meanwhile There Are Letters: The Correspondence of Eudora Welty and Ross Macdonald…
"What a pleasure it is to be allowed this glimpse into the decade-long literary friendship between Pulitzer-prize-winning Southern writer, Eudora Welty, and renowned crime writer, Ross Macdonald. Throughout their correspondence, their mutual admiration and affection are evident. Tom Nolan and Suzanne Marrs have done a masterful job of presenting these amazing letters that so vividly trace a remarkable relationship." —Sue Grafton, New York Times best-selling author

"These letters between Eudora Welty and Ross Macdonald are unexpected and exhilarating. We owe Suzanne Marrs and Tom Nolan a debt of gratitude for the important labor of love." —Richard Russo

"Scintillating . . . Their letters, rarely separated by more than a few days, are an engrossing catalogue of shared passions . . . Each was a perceptive reader of the other . . . their responses to one another glow with warmth and even love . . . "Henry," [Welty's] unfinished story about an Alzheimer's sufferer, supplies a moving postscript to this poignant exchange of letters and love." —Publishers Weekly

"An intimate, luminous portrait of a friendship." —Kirkus Reviews, starred review

"Whether read straight through as a narrative or enjoyed over time in short takes, this is a letter collection to be savored." —Booklist, starred review

"Gives us the feel of love rising off the page."—The New York Times

"This is one of the finest books in an unusually rich year for biographical and critical works in the mystery field. The Edgar, should it win one, would presumably go to the editors, Welty biographer Suzanne Marrs and Macdonald biographer Tom Nolan, who have expertly provided the necessary bridges and identifications to shape the material into a rewarding whole. In effect, Macdonald and Welty have collaborated on a posthumous epistolary novel, one that delivers through reality the emotional power and truthfulness of great fiction." —Mystery Scene Magazine

"Eudora Welty and Ross Macdonald are giants of American literature. These exquisite letters chart the growth of a deep and abiding friendship. And, astoundingly, they become a love story that will break your heart." —Alfred Uhry, author of Driving Miss Daisy and winner of the Pulitzer Prize, the Tony Award, and the Oscar

"What could be better than a love built on friendship, and a friendship built on letters? To catch a glimpse into the inner lives of these tender, brilliant, bookish souls is a thrill beyond measure." —Ann Patchett, author of Bel Canto and This Is the Story of a Happy Marriage

"A fascinating book that affords great insight into the creative genius of two master storytellers. In an era of personal communication marked by texting and tweeting, Meanwhile There Are Letters is a wonderful reminder that the lost art of writing a letter is about as personal as it can get." —Michael Connelly

"Meanwhile There Are Letters is a testament to the power of the pen and the human spirit. Surely longing is the most complex and passionate of all emotions. . . . This is as moving a love story as you will ever read." —Lee Smith, author of The Last Girls and Guests on Earth

"Eudora Welty and Ken Millar were lovers. Their passionate affection for each other was expressed in their words, written in letters, rather than in the physical. But they touched one another as deeply as if they lived and shared life together under one roof, one desk, one bed—maybe more so. They exchanged thoughts about their respective art as writers but also their complete experiences as two people traveling in and out of minds and emotions as well as hotels, cities, conferences, conversations, laughs, disappointments, relationships. These letters and the two lives they reveal are a treasure. Read them, hold them as they did each other—and envy them." —Jim Lehrer, executive editor of the PBS NewsHour and author of Top Down

"Across barriers of gender, background, region, and literary practice, two writers extend the gift of friendship to one another. The result is literature itself: the letter as art form and documentation of daily life as well as an expression, at once spontaneous and crafted, of that longing for understanding that can be met through a correspondence edging into an even more mysterious communication." —Kevin Starr, University of Southern California

"It is a truth universally acknowledged that a writer in possession of talent must be in want of another writer with talent because writers need friends, and so it is in these letters. We witness a deep abiding friendship unfurl into what can only be called a love story. Electrical currents pop beneath the surface of the prose, and then there are the breathless postscripts, for always there is more to say. The subplot is in the sign-offs and very soon, it is Love. After a fashion, they simply sign their names, Ken (Ross's real name). Eudora; then K and E, their mutual love now understood." —Margaret McMullan, author of Aftermath Lounge and My Mother's House

"A literary love affair that stayed on the page . . . a fascinating, delightful, and often heartfelt book." —The Guardian

"Remarkable. . . [The] careful, insightful commentary around the letters makes the book read as satisfyingly as a novel of two people whose true loves were always language and description and story as the only way to reconcile the heart with the world."—Susan Straight, The Los Angeles Times

"This captivating collection of letters between two very different writers is old-fashioned in the best sense of the term. . . . The choice of editors for this book could not have been better . . . Their informative, useful notes and insightful introduction show not only the depth of their knowledge of these writers' lives and oeuvres, but also just how attuned they are to both." —Washington Times

". . . Superbly edited work . . . "Letters" is a treasure-trove of insights about writers, writing, books, the literati of the time, both national and international . . . The letters are fascinating and bring to life a literary world that's long gone." —Jackson Clarion-Ledger

"Suzanne Marrs and Tom Nolan, respectively the biographers of Welty and Macdonald, have edited this intense correspondence with obvious authority. . . . Enjoyable." —The Washington Post

"The letters remove Macdonald and Welty from the realm of abstraction, the stuff of stamps and textbooks, and present them as people you'd like to have at a dinner party: bright, funny, warm, and full of silliness. Reading the correspondence between Millar and Welty, you almost begin thinking of them as your friends—friends who should get together, already. And if they did, who knows? The letters may be littered with clues. After all, both writers enjoyed a good mystery." —The Paris Review

"Extraordinary . . . the letters that they exchanged show a deep affection . . . and span a wide range of topics, from how to get around writer's block, authors they admired and were reading, the Vietnam War and various political matters, including the presidencies of Nixon, Carter and Reagan." —Austin American-Statesman

"What a pleasure it is to be allowed this glimpse into the decade-long literary friendship between Pulitzer-prize-winning Southern writer, Eudora Welty, and renowned crime writer, Ross Macdonald. Throughout their correspondence, their mutual admiration and affection are evident. Tom Nolan and Suzanne Marrs have done a masterful job of presenting these amazing letters that so vividly trace a remarkable relationship." —Sue Grafton, New York Times best-selling author

"These letters between Eudora Welty and Ross Macdonald are unexpected and exhilarating. We owe Suzanne Marrs and Tom Nolan a debt of gratitude for the important labor of love." —Richard Russo

"Scintillating . . . Their letters, rarely separated by more than a few days, are an engrossing catalogue of shared passions . . . Each was a perceptive reader of the other . . . their responses to one another glow with warmth and even love . . . "Henry," [Welty's] unfinished story about an Alzheimer's sufferer, supplies a moving postscript to this poignant exchange of letters and love." —Publishers Weekly

"An intimate, luminous portrait of a friendship." —Kirkus Reviews, starred review

"Whether read straight through as a narrative or enjoyed over time in short takes, this is a letter collection to be savored." —Booklist, starred review

"Gives us the feel of love rising off the page."—The New York Times

"This is one of the finest books in an unusually rich year for biographical and critical works in the mystery field. The Edgar, should it win one, would presumably go to the editors, Welty biographer Suzanne Marrs and Macdonald biographer Tom Nolan, who have expertly provided the necessary bridges and identifications to shape the material into a rewarding whole. In effect, Macdonald and Welty have collaborated on a posthumous epistolary novel, one that delivers through reality the emotional power and truthfulness of great fiction." —Mystery Scene Magazine

"Eudora Welty and Ross Macdonald are giants of American literature. These exquisite letters chart the growth of a deep and abiding friendship. And, astoundingly, they become a love story that will break your heart." —Alfred Uhry, author of Driving Miss Daisy and winner of the Pulitzer Prize, the Tony Award, and the Oscar

"What could be better than a love built on friendship, and a friendship built on letters? To catch a glimpse into the inner lives of these tender, brilliant, bookish souls is a thrill beyond measure." —Ann Patchett, author of Bel Canto and This Is the Story of a Happy Marriage

"A fascinating book that affords great insight into the creative genius of two master storytellers. In an era of personal communication marked by texting and tweeting, Meanwhile There Are Letters is a wonderful reminder that the lost art of writing a letter is about as personal as it can get." —Michael Connelly

"Meanwhile There Are Letters is a testament to the power of the pen and the human spirit. Surely longing is the most complex and passionate of all emotions. . . . This is as moving a love story as you will ever read." —Lee Smith, author of The Last Girls and Guests on Earth

"Eudora Welty and Ken Millar were lovers. Their passionate affection for each other was expressed in their words, written in letters, rather than in the physical. But they touched one another as deeply as if they lived and shared life together under one roof, one desk, one bed—maybe more so. They exchanged thoughts about their respective art as writers but also their complete experiences as two people traveling in and out of minds and emotions as well as hotels, cities, conferences, conversations, laughs, disappointments, relationships. These letters and the two lives they reveal are a treasure. Read them, hold them as they did each other—and envy them." —Jim Lehrer, executive editor of the PBS NewsHour and author of Top Down

"Across barriers of gender, background, region, and literary practice, two writers extend the gift of friendship to one another. The result is literature itself: the letter as art form and documentation of daily life as well as an expression, at once spontaneous and crafted, of that longing for understanding that can be met through a correspondence edging into an even more mysterious communication." —Kevin Starr, University of Southern California

"It is a truth universally acknowledged that a writer in possession of talent must be in want of another writer with talent because writers need friends, and so it is in these letters. We witness a deep abiding friendship unfurl into what can only be called a love story. Electrical currents pop beneath the surface of the prose, and then there are the breathless postscripts, for always there is more to say. The subplot is in the sign-offs and very soon, it is Love. After a fashion, they simply sign their names, Ken (Ross's real name). Eudora; then K and E, their mutual love now understood." —Margaret McMullan, author of Aftermath Lounge and My Mother's House

"A literary love affair that stayed on the page . . . a fascinating, delightful, and often heartfelt book." —The Guardian

"Remarkable. . . [The] careful, insightful commentary around the letters makes the book read as satisfyingly as a novel of two people whose true loves were always language and description and story as the only way to reconcile the heart with the world."—Susan Straight, The Los Angeles Times

"This captivating collection of letters between two very different writers is old-fashioned in the best sense of the term. . . . The choice of editors for this book could not have been better . . . Their informative, useful notes and insightful introduction show not only the depth of their knowledge of these writers' lives and oeuvres, but also just how attuned they are to both." —Washington Times

". . . Superbly edited work . . . "Letters" is a treasure-trove of insights about writers, writing, books, the literati of the time, both national and international . . . The letters are fascinating and bring to life a literary world that's long gone." —Jackson Clarion-Ledger

"Suzanne Marrs and Tom Nolan, respectively the biographers of Welty and Macdonald, have edited this intense correspondence with obvious authority. . . . Enjoyable." —The Washington Post

"The letters remove Macdonald and Welty from the realm of abstraction, the stuff of stamps and textbooks, and present them as people you'd like to have at a dinner party: bright, funny, warm, and full of silliness. Reading the correspondence between Millar and Welty, you almost begin thinking of them as your friends—friends who should get together, already. And if they did, who knows? The letters may be littered with clues. After all, both writers enjoyed a good mystery." —The Paris Review

"Extraordinary . . . the letters that they exchanged show a deep affection . . . and span a wide range of topics, from how to get around writer's block, authors they admired and were reading, the Vietnam War and various political matters, including the presidencies of Nixon, Carter and Reagan." —Austin American-Statesman