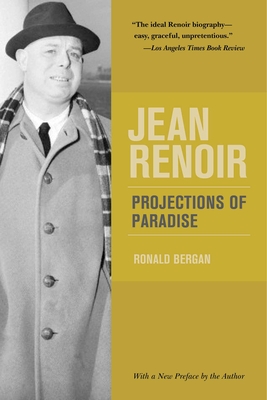 Jean Renoir (Paperback)
Projections of Paradise
Arcade, 9781628725704, 396pp.
Publication Date: January 5, 2016
Other Editions of This Title:
Paperback (6/1/1995)
Hardcover (9/1/1994)
MP3 CD (5/31/2016)
* Individual store prices may vary.
Description
Now back in print, the definitive biography of a seminal figure in film history, whom Orson Welles called "the greatest of all directors."

Jean Renoir's career almost spans the history years of cinema–from the early silent movies, to the naturalism of the talkies, committed cinema, film noir, Hollywood studio productions, the Technicolor-period comedies and fast television techniques. His film The Grand Illusion remains one of the greatest movies about the effects of war.

Decades after its release, Renoir's The Rules of the Game (1939) is the only film to have been included on every top ten list in the Sight & Sound's respected decennial poll since 1952, cementing Renoir's influence. André Bazin and François Truffaut praised Renoir as the patron saint of the French New Wave.

Jean Renoir: Projections of Paradise gives detailed accounts of Renoir's working methods and captivating appraisals of his films, and his long and fascinating life from his blissful childhood as the son of the great Impressionist painter August Renoir. This is a must-read for students of film and all fans of entertaining, timeless movies.
About the Author
Ronald Bergan, film historian, critic, and lecturer, is a regular contributor to the Guardian. The author of numerous film biographies, including Sergei Eisenstein, and Katharine Hepburn, published by Arcade, he held the chair in film at Florida International University in Miami and lectured at the Sorbonne, the British Institute in Paris, and the University of Lille. He now lives in Prague, where he teaches at the famed FAMU film school.
Praise For Jean Renoir: Projections of Paradise…
"The ideal Renoir biography—easy, graceful, and unpretentious." —Los Angeles Times Book Review

"Substantial, well-researched . . . Ronald Bergan creates a detailed, affectionate portrait … vividly realized." —Observer

"Bergan has written a book that reads as well at the beach as it will in film class." —Newsday (New York)

"[Bergan] painstakingly chronicles the plots and makings of Renoir's oeuvre . . . purely biographical and enjoyable. "
—The New York Times Book Review

"The ideal Renoir biography—easy, graceful, and unpretentious." —Los Angeles Times Book Review

"Substantial, well-researched . . . Ronald Bergan creates a detailed, affectionate portrait … vividly realized." —Observer

"Bergan has written a book that reads as well at the beach as it will in film class." —Newsday (New York)

"[Bergan] painstakingly chronicles the plots and makings of Renoir's oeuvre . . . purely biographical and enjoyable. "
—The New York Times Book Review