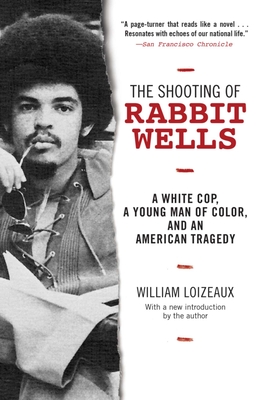 The Shooting of Rabbit Wells (Paperback)
A White Cop, a Young Man of Color, and an American Tragedy; with a New Introduction by the Author
Arcade, 9781628725957, 260pp.
Publication Date: September 29, 2015
Other Editions of This Title:
Paperback (2/1/2012)
* Individual store prices may vary.
Description
What put a white cop and a black youth on a tragic collision course? This moving account is more timely than ever.

On a frigid winter's night in 1973, William "Rabbit" Wells, a young man of mixed race, was shot and killed by a white policeman named William Sorgie outside a bar in Bernardsville, New Jersey. The shooting, later ruled an accident, stunned local residents and the nation.

For thirty years, author William Loizeaux, who went to high school with Rabbit, hasn't been able to forget what happened. With clear-eyed compassion and unsparing honesty, The Shooting of Rabbit Wells re-creates the lives of both victim and killer, and the forces that brought them together. At the story's center is Rabbit Wells himself. Part African-American, part Cherokee, part white, Rabbit never knew his father and was neglected by his mother. Here is a memoir, a biography, and the story of a writer's search for the scattered remains of a catastrophe. A stirring and powerful document, it is also a work of terrible beauty: by giving us the life of Rabbit Wells, Loizeaux makes us understand—and feel—how unacceptable and irreparable the loss was, and how deeply the bullet that killed him is lodged in the American identity.
About the Author
William Loizeaux grew up in Basking Ridge, New Jersey, is the author of Anna: A Daughter's Life and the novel A Tumble Inn, and works for children. He lives with his wife in Boston, where he is Writer-in-Residence at Boston University.
Praise For The Shooting of Rabbit Wells: A White Cop, a Young Man of Color, and an American Tragedy; with a New Introduction by the Author…
"A page-turner that reads like a novel . . . Resonates with echoes of our national life." —San Francisco Chronicle

"Indisputably a structural marvel . . . thanks to Loizeaux's unfailingly clear prose and his eye for the detail that instantly impresses a scene on the mind. A quietly heroic rescue of a pointlessly stolen life, and an evocative snapshot of an extraordinary moment in an ordinary place." —Kirkus Reviews

"The Shooting of Rabbit Wells is an unexampled book, part reconstructed memoir, part true fiction: The Catcher in the Rye meets In Cold Blood." —Mark Richard, winner of the Pushcart Prize

"Though the final outcome is known from page one, Loizeaux creates surprising tension as his book drives to its bitter conclusion." —Booklist

"First-rate . . . built on a bedrock of fact, in which Loizeaux takes a simple story and asks us to believe and care about a young man whom no one ever got to know." —Tjames Madison, Amazon.com

"A page-turner that reads like a novel . . . Resonates with echoes of our national life." —San Francisco Chronicle

"Indisputably a structural marvel . . . thanks to Loizeaux's unfailingly clear prose and his eye for the detail that instantly impresses a scene on the mind. A quietly heroic rescue of a pointlessly stolen life, and an evocative snapshot of an extraordinary moment in an ordinary place." —Kirkus Reviews

"The Shooting of Rabbit Wells is an unexampled book, part reconstructed memoir, part true fiction: The Catcher in the Rye meets In Cold Blood." —Mark Richard, winner of the Pushcart Prize

"Though the final outcome is known from page one, Loizeaux creates surprising tension as his book drives to its bitter conclusion." —Booklist

"First-rate . . . built on a bedrock of fact, in which Loizeaux takes a simple story and asks us to believe and care about a young man whom no one ever got to know." —Tjames Madison, Amazon.com