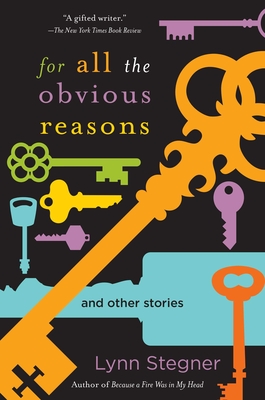 For All the Obvious Reasons: And Other Stories (Hardcover)
And Other Stories
Arcade Publishing, 9781628726411, 244pp.
Publication Date: June 7, 2016
Description
For All the Obvious Reasons is Lynn Stegner's superb collection of nine, remarkably distinct tales of passion, clear-eyed wisdom, and honesty honed to a cutting edge. These are stories the reader can't shake: A woman living a marital shadow-life realizes that her long compensating heart has begun to ominously decompensate. An affluent New Yorker becomes a hoarder to escape a future he cannot bear to take up. A baby dies in a miasma of sibling resentments and from that, the secrets of culpability unravel. A construction worker and a bereaved young neighbor together find a way to be in a broken world. And in the beautifully moving narrative that closes the volume, a story about the depth of goodness and duty, and of the profound love they both define and prevent. From the wild rivers of British Columbia to the cement jungle of Manhattan, Stegner pulls us from our own worlds into her own. With luminous particulars and in richly orchestrated language, these stories sound the vibrant, sometimes anguished music that composes human lives.
These stories first appeared in the following publications: "Catch and Release" from The Best of Carve Magazine and winner of a Raymond Carver Short Story Award, among other honors. "The New Sister" from New West. "The Boat on the Lake" in Five Points. "Mona's Coming" in Stoneslide. "Rogue" from The Tusculum Review and winner of the 2013 Prize in Fiction. "For All the Obvious Reasons" from Gival Press and winner of the 2013 Short Story Award Two have not been published previously:
"In the Not-Too-Different Future"
"The Anarchic Hand" Skyhorse Publishing, as well as our Arcade, Yucca, and Good Books imprints, are proud to publish a broad range of books for readers interested in fiction--novels, novellas, political and medical thrillers, comedy, satire, historical fiction, romance, erotic and love stories, mystery, classic literature, folklore and mythology, literary classics including Shakespeare, Dumas, Wilde, Cather, and much more. While not every title we publish becomes a New York Times bestseller or a national bestseller, we are committed to books on subjects that are sometimes overlooked and to authors whose work might not otherwise find a home.
About the Author
LYNN STEGNER is the author of three novels, a collection of novellas, and various stories and essays. Her work has received numerous awards including the Faulkner Award for Best Novel (for Because a Fire Was in My Head)--also a New York Times Editor's Choice, a Book Sense Pick, and a Literary Ventures Selection. Over the years, fellowships from the NEA, the Fulbright Society, the Western States Arts Council have recognized the literary distinction of her work. Currently teaching novel and fiction writing at Stanford University, she divides her time between San Francisco and Vermont's Northeast Kingdom.
Advertisement