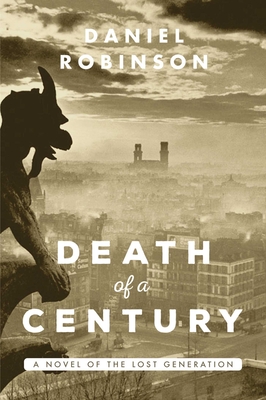 Death of a Century (Paperback)
A Novel of the Lost Generation
Arcade, 9781628727555, 280pp.
Publication Date: April 18, 2017
Other Editions of This Title:
Hardcover (6/9/2015)
MP3 CD (11/17/2015)
* Individual store prices may vary.
Description
Greenwich, Connecticut, 1922. Newspaperman Joe Henry finds himself the primary suspect when his friend and fellow reporter Wynton Gresham is murdered. Both were veterans of French battles during World War II—the war that was supposed to end all wars.

Unanswered questions pile up in the wake of a violent night: Gresham lies dead in his home; a manuscript he had just completed has gone missing; three Frenchmen have been killed in a car wreck less than a mile from Gresham's home; and a trunk full of Gresham's clothes sits neatly packed in his bedroom. When Henry discovers a one-way ticket reserved in his friend's name aboard a steamship to France, he assumes Gresham's identity and slips away from the grasp of the town sheriff to pursue the truth about his friend's death. In Paris, he becomes a hunted man. To clear his name he must find Gresham's murderer while evading his own demise and discover the secret revealed in the lost manuscript. In the process, with the help of other shattered expat veterans living in Paris, he finds hope in a world irrevocably altered by war. With cameos from Ernest Hemingway, F. Scott Fitzgerald, and Gertrude Stein, Death of a Century is at once a playful romp that brings the Paris of the Lost Generation to life and a compassionate story of the enduring impact of war on a generation.
About the Author
Daniel Robinson won the Clay Reynolds Novella Prize for his Depression-era noir The Shadow of Violence. He has a PhD from the writing program at the University of Denver and has published numerous articles about Hemingway and the post-WWI Lost Generation. He lives in Fort Collins, Colorado, where he teaches American literature and runs a small historical collectibles business.
Praise For Death of a Century: A Novel of the Lost Generation…
"An entertaining gallop of a story, by a writer both innovative and spellbinding."—Kristen Iversen, author of Full Body Burden: Growing Up in the Nuclear Shadow of Rocky Flats

"Robinson's atmospheric tale of betrayal and revenge paints a passionate picture of the Lost Generation…" — Publisher's Weekly

"The author deals with the main character's shellshock with a great deal of care and sympathy, while paralleling the brutality of the world off the battlefield. This is a book not to be missed; it is a mystery, thriller, historical drama in one package." —Manhattan Book Review

"The lessons of World War I are as relevant today as they were one hundred years ago and when we read novels like Death of a Century, we are reminded poignantly of these lessons." —Historical Novel Society

"An entertaining gallop of a story, by a writer both innovative and spellbinding."—Kristen Iversen, author of Full Body Burden: Growing Up in the Nuclear Shadow of Rocky Flats

"Robinson's atmospheric tale of betrayal and revenge paints a passionate picture of the Lost Generation…" — Publisher's Weekly

"The author deals with the main character's shellshock with a great deal of care and sympathy, while paralleling the brutality of the world off the battlefield. This is a book not to be missed; it is a mystery, thriller, historical drama in one package." —Manhattan Book Review

"The lessons of World War I are as relevant today as they were one hundred years ago and when we read novels like Death of a Century, we are reminded poignantly of these lessons." —Historical Novel Society
or
Not Currently Available for Direct Purchase