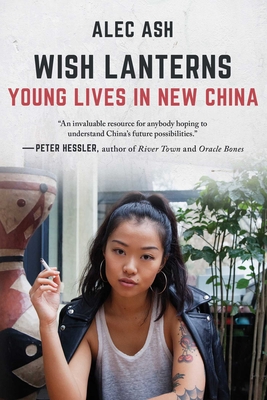 Wish Lanterns
Young Lives in New China
Hardcover

* Individual store prices may vary.
Description
"Ash's book paints a telling portrait of this most restless generation raised in a system that has provided them with unprecedented personal opportunities while denying them political ones . . . A gifted observer."—Washington Post

If China will rule the world one day, who will rule China? There are more than 320 million Chinese between the ages of sixteen and thirty. Children of the one-child policy, born after Mao, with no memory of the Tiananmen Square massacre, they are the first net native generation to come of age in a market-driven, more international China. Their experiences and aspirations were formed in a radically different country from the one that shaped their elders, and their lives will decide the future of their nation and its place in the world.

Wish Lanterns offers a deep dive into the life stories of six young Chinese. Dahai is a military child, netizen, and self-styled loser. Xiaoxiao is a hipster from the freezing north. "Fred," born on the tropical southern island of Hainan, is the daughter of a Party official, while Lucifer is a would-be international rock star. Snail is a country boy and Internet gaming addict, and Mia is a fashionista rebel from far west Xinjiang. Following them as they grow up, go to college, find work and love, all the while navigating the pressure of their parents and society, Wish Lanterns paints a vivid portrait of Chinese youth culture and of a millennial generation whose struggles and dreams reflect the larger issues confronting China today.
Praise For Wish Lanterns: Young Lives in New China…
"Ash effortlessly dissolves stereotypes with this refreshing and nuanced portrait of individuals who are shaping the China of tomorrow." —Rob Schmitz, Shanghai correspondent for NPR

"Lyrical, with its characters finely drawn, Ash's book paints a telling portrait of this most restless generation raised in a system that has provided them with unprecedented personal opportunities while denying them political ones . . . A gifted observer."—Washington Post

"Compelling and beautifully written." —Rana Mitter, Prospect

"Informative and often humorous . . . Through six individuals, Ash addresses topic such as recent Chinese politics, music, urbanization, internet addiction, and more. [Wish Lanterns] presents a refreshing range of perspectives about being twenty-something in China." —Marianna Cerini, Forbes

"Masterfully crafted . . . The richness of Ash's book is in the character development, the details of everyday life, dreams, frustrations, and contradictions of these particular individuals. Ash enters their worlds as a peer (he is their same age) and he's a sensitive listener, reporter, and storyteller. Through this particular constellation of players, we sense that the fact that China is gaining strength in the world complicates their instincts for rebellion and resistance." —Los Angeles Review of Books

"A perceptive and quietly profound book."—Booklist, starred review

"Novelistic anecdotes reveal Chinese young people struggling with universal themes of education, employment, and love. . . the author eloquently delineates the dreams and disappointments of young Chinese. Sensitive, fascinating reports." —Kirkus

"Fascinating . . . Ash's deeply insightful exploration paints a vivid picture of growing up in China today, and, by implication, this powerful and ever-morphing nation's future leaders." —Publishers Weekly

"Alec Ash's book has opened a window in the wall between China and the west for us to see the hopes and fears of these young Chinese who are struggling to build their lives in a world that their parents could never dream of." —Xinran, author of The Good Women of China

"Wish Lanterns announces the arrival of a talented young observer of today's China. Alec Ash documents the lives of Chinese millennials with detail, insight, and sympathy, and his book is an invaluable resource for anybody hoping to understand the country's future possibilities."—Peter Hessler, New York Times–bestselling author of Oracle Bones and Country Driving

"A gem of a book. Its brief chapters flow like a skillfully crafted set of interconnected short stories, yet all are rooted in the real life experiences of six individuals. An impressive debut book by a writer to watch." —Jeffrey Wasserstrom, author of China in the 21st Century

"Alec Ash hangs out with China's 'post-80s' generations to give us a series of fascinating and insightful snapshots of where the country might be heading." —Paul French, author of Midnight in Peking

"A beautiful and thoughtful book about the life of young people in China. Alec Ash has succeeded in giving us an intimate and complex portrait of the one child policy generation. I enthusiastically recommend you to read it." —Xiaolu Guo, author of I Am China

"One of the best [books] I've read about the individuals who make up a country that is all too often regarded as a monolith." —Jonathan Fenby, Financial Times

"Alec Ash has assembled a fascinating mosaic that gives us a wonderfully vivid sense of what it's like to grow up today in the People's Republic of China. Wish Lanterns enables a reader to get an immediate feel of how contradictory life in this dynamic but still unresolved country often is." —Orville Schell, Director, Center on US-China Relations

"A wonderfully readable and engaging account of Chinese millennials. Alec Ash weaves the joy, heartbreak, drama and trauma of this group through disparate stories, making up a highly realistic, and at times poetic, portrait of the people who will likely have the greatest future impact in the world today." —Kerry Brown, Professor of China Studies, King's College London

"Here is a completely novel take on contemporary China. Alec Ash embarks on a different sort of Chinese journey, following six millennials from the nation's far-flung corners as they make their way to university, on stage, deep underground, and even abroad. The result is a work of heart-felt reportage, and also great suspense, as we wait to learn each character's fate. I couldn't put it down." —Michael Meyer, author of The Last Days of Old Beijing: Life in the Vanishing Backstreets of a City Transformed
Arcade, 9781628727647, 336pp.
Publication Date: March 7, 2017
About the Author
Alec Ash was born in England in 1986 and is of the same generations as his subjects in Wish Lanterns. After graduating from Oxford, he taught in a Tibetan village and in 2008 moved to Beijing, where he is a writer and journalist. His articles have appeared in the Economist, Dissent, Foreign Policy, and elsewhere, including the book of reportage Chinese Characters and the Los Angeles Review of Books, for which he blogs. He is a founder and editor of theanthill.org and coeditor of the anthology While We're Here. He resides in Beijing.