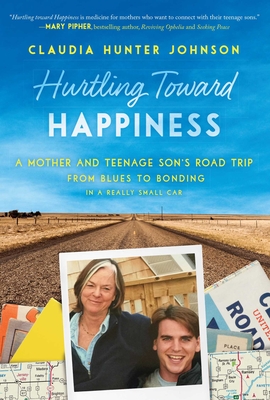 Hurtling Toward Happiness
A Mother and Teenage Son's Road Trip from Blues to Bonding In a Really Small Car
Hardcover

* Individual store prices may vary.
Description
The Funny, Wise, Bighearted Story of a Bonding Road Trip—and the Healing Power of Human Connection

When Claudia's sixteen-year-old son, Ross, announces he's quitting high school and leaving home a year early, she panics because they're so disconnected she's afraid she'll lose him forever. Then a small miracle happens—they discover they have the same escape fantasy, to head west on I-10 to where she grew up, in Corpus Christi, Houston, and Kingsville, Texas. So, on a tight budget and with the expense clock ticking, they travel from Tallahassee to Texas and back, 2,400 miles in one week.
But the distance they cover transcends the miles that they drive. Along the way Claudia recounts the sometimes hilarious, often harrowing, but ultimately courageous Texas family story that defined her childhood and is Ross's heritage—a story that centers on her own mother's path-breaking journey from a family history of dysfunction, alcoholism, and abuse to create a life for herself and a loving home for her children. As Claudia and Ross spend time together, sharing stories and laughter, she's able to see more clearly the young man her son has become, and he takes responsibility for his unhappiness and finds a solution.
With prose that is nimble, vivid, and rich in humor, here is a spirited testament to the crucial bond between mothers and children.
Praise For Hurtling Toward Happiness: A Mother and Teenage Son's Road Trip from Blues to Bonding In a Really Small Car…
"Hurtling toward Happiness thrives from a quick pace and energetic dialogue that shows genuine warmth between mother and son. Reading it, I almost felt as if I were watching a play. I also felt like renting a sweet ride and hitting the road."—The New York Times Book Review

"Highly recommended for all parents, whether their children are teenagers or not. This memoir will alternately cause readers to smile and tear up frequently. . . . The book has many tearjerker moments, it is also filled with warmth, affection, and good humor. Johnson tells her story well and does a particularly good job of interweaving past and present. "—Library Journal

"Hurtling toward Happiness is medicine for mothers who want to connect with their teenage sons. Its prescription for estrangement is a road trip with music, conversation, truth telling, and adventure. I recommend this inspiring story for the parents of adolescents and for anyone else who wants to understand the best and most honest of family stories." — Mary Pipher, bestselling author of Reviving Ophelia and Seeking Peace

"A great, page-turning story. I read it in 48 hours. I couldn't put it down. Packed with affectingly rich description, a poignant generation-spanning family story, and laugh-out-loud humor in every chapter, this entertaining and energetic book is much too sensorially stimulating for the emotionally stunted like myself. Be warned."—Cole Bolton, editor in chief, The Onion

"A joyous book told by a mother with instinctive wisdom, loaded with love and just plain fun and with an extreme family history to tell. An OMG read."—Naomi Hample, owner, Argosy Bookstore

"Hurtling toward Happiness is a heartwarming and humorous journey through distant memories, the open road, and the complex joy of family. Johnson takes the reader on an entertaining adventure down Interstate 10 with her willful and witty son, which leads not just from Florida to her childhood home in Texas, but from disconnection to reconnection."—Alex Korb, PhD author of The Upward Spiral: Using Neuroscience to Reverse the Course of Depression, One Small Change at a Time

"Every mother of a teenage son or daughter should read this wise, witty, heart-warming memoir. Frankly, I have never read a more honest and moving exploration of the delicate yet all but unbreakable skein of family attachments that makes us who we are and teaches us, if we are lucky, how to love unselfishly." —Charles Gaines, bestselling and award-winning author

"Ultimately, this road trip did what travel does best: slows us down, forces us to be new again, a little uncomfortable, a little heightened, and in so doing allows us to see ourselves, and those we love, as new country. And Johnson did what writers do best: she made the journey worth it."—Literary Mama
Arcade, 9781628728156, 288pp.
Publication Date: October 24, 2017
About the Author
Claudia Hunter Johnson is an award-winning writer, screenwriter, and documentary filmmaker. Her memoir Stifled Laughter was nominated for the Pulitzer Prize and won the inaugural PEN/Newman's Own First Amendment Award, and her Civil Rights documentary, The Other Side of Silence: The Untold Story of Ruby McCollum, won Best Florida Documentary at the Ft. Lauderdale International Film Festival and the Gold Jury Prize at Seattle' s Social Justice Film Festival. She has taught screenwriting at Florida State University and USC. She divides her time between Annandale, Virginia, and Nova Scotia.
or
Not Currently Available for Direct Purchase