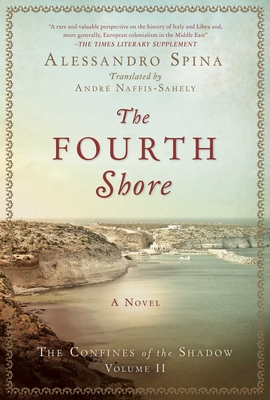 The Fourth Shore
The Confines of the Shadow Volume II
Hardcover

* Individual store prices may vary.
Description
The modern classic about the colonization of Libya continues, as Italy watches its prized colony slip away.

The Confines of the Shadow maps the transformation of the Libyan city of Benghazi from a sleepy Ottoman backwater in the 1910s to the second capital of an oil-rich kingdom in the 1960s. The short stories that comprise this second volume are set in the period between the late 1920s, when Italy began solidifying its power in its new Libyan colony, and the end of World War II, when control of the country passed into British hands. Italian military officers idle their time away at their club or by exploring the strange lands where they have been posted, always at odds between the nationalistic education they received at home and the lessons they've learned during their time in Libya.

Employing a cosmopolitan array of characters, ranging from Italian soldiers to Ottoman functionaries, The Fourth Shore (the term was Mussolini's name for the Mediterranean shore of Libya) chronicles Italy's colonial experience from the euphoria of conquest—giving the reader a front-row seat to the rise and subsequent fall of Fascism in the aftermath of World War II—to the country's independence in the 1950s. The discovery of Libya's vast oil and gas reserves will trigger the tumultuous changes that led to Muammar Gaddafi's forty-two-year dictatorship.
Arcade, 9781628728361, 480pp.
Publication Date: January 15, 2019
About the Author
Alessandro Spina was the nom de plume of Basili Shafik Khouzam, who was born into a family of Syrian Maronites in Benghazi in 1927. His first story was published by Alberto Moravia in 1955 and he maintained a steady literary output throughout his life, counting many eminent Italian writers as admirers. His work was shortlisted for the Strega and Campiello prizes and, when it was published in full, The Confines of the Shadow was awarded the Bagutta Prize.

André Naffis-Sahely is a renowned Italian-Iranian poet, critic, and translator. He received a BA in History and Politics and an M.Litt in Creative Writing from the University of St. Andrews. His debut collection, The Promised Land, is forthcoming from Penguin. He is the recipient of a 2016 Writers in Translation award from English PEN. He has written for The Times Literary Supplement, The Independent, The Economist, and is a contributor to Words Without Borders. He lives in Los Angeles.