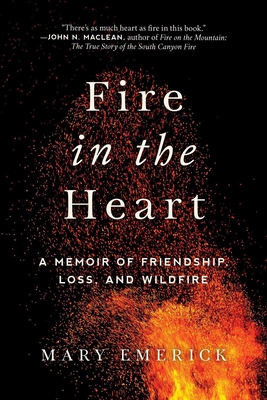 Fire in the Heart (Hardcover)
A Memoir of Friendship, Loss, and Wildfire
Arcade, 9781628728439, 256pp.
Publication Date: September 5, 2017
* Individual store prices may vary.
Description
FIRE IN THE HEART is a powerful memoir by a woman, once a shy, insecure schoolgirl, who reinvented herself as a professional wildlands firefighter. Determined to forge herself into a stronger, braver person, Mary devotes herself to fire from the Florida swamp to Alaska's interior. Filled with literal struggles for survival, tough choices and Mary's burning passion for what she does, Fire in the Heart, is an unflinching account of one woman's relationship with fire. But when she loses a close friend to the famous Storm King Mountain forest fire in Colorado, which killed fourteen firefighters, Mary faces the hardest choice of her life; to stay in the game or turn back and try to find the woman she used to be. It is both a thrilling memoir about life-threatening work and a meditation on identity, strength, bravery, bonds, and survivor's guilt.
About the Author
Mary Emerick was a wildland firefighter for over 20 years, and the author of the novel, The Geography of Water. Mary has published numerous essays in anthologies, magazines and online publications. She was nominated for the Pushcart Prize in 2011. She currently lives and works for the US Forest Service in Joseph, Oregon.
Praise For Fire in the Heart: A Memoir of Friendship, Loss, and Wildfire…
"Emerick vividly recounts the extremely taxing physical requirements, the deadly conditions firefighters consistently endure, and the ever present lure of adventure and camaraderie each fire provides....A moving and bittersweet memoir of a woman's love affair with a unique profession."--Kirkus Reviews
"This is a story of love, friendship, wildfire, and death written in vivid prose fresh from the fireline. Mary Emerick was a little girl with spindly arms and legs who toughed it out to become a career wildland firefighter, hoping for "the big one" in the West and filling in the offseason as a "panther babe" on burns in Florida. There's as much heart as fire in this book. It took a "big one," the South Canyon Fire on Storm King Mountain, to bring home the deepest meanings of love, loss, and the bittersweet renewal of life that follows the flames."
--John N. Maclean, author of Fire on the Mountain: The True Story of the South Canyon Fire, and other books.

"Masterful! A beautiful, gripping exploration of Mary Emerick's twenty-five-year journey through the insular, dangerous, hyper-masculine world of wildfire. In riveting prose, Emerick writes of what she gave up–and what she gained–by choosing a life as a wildland firefighter. Fire in the Heart is a thoughtful meditation on the impact of wildland fire suppression on the American landscape, and on one woman's heart. I love this book!"—Mary Pauline Lowrey, author of Wildfire: a Novel

"Hour by hour, season by season, fire by fire, readers crisscross the country with Emerick as she rises to the challenges of this difficult life, even as she asks herself whether she can ever stop moving and find another kind of life, where staying might not mean entrapment, where freedom means home." --Bette Lynch Husted, author of Above the Clearwater: Living on Stolen Land

"Imagine facing a wildfire with nothing more than a pulaski and a drip torch. Now, imagine you are a young woman on a crew comprised mainly of athletic young men out to prove something to themselves and to each other. You're carrying a 40-pound pack on your back and slung under the pack is a deployable fire shelter that you may, or may not need, for your survival. Should the fire jump the line. Should you not be able to reach your safety zone. It will depend on the wind, the relative humidity, and things intangible, like luck. Like fate. Like bravery. Fire in the Heart is Mary Emerick's lyrical meditation on one woman's search for identity. A mesmerizing and compelling story of fire and courage and love and transformation."--Pamela Royes author of Temperance Creek, a memoir

"Mary Emerick's journey back to nature is one in search of herself. After two decades of fighting wildfire, she came home with the kind of stories we all need to hear; stories that help us understand that at times, we can be brave, we can be strong, we can be fully human." Murry A. Taylor, author of Jumping Fire: A Smokejumper's Memoir of Fighting Wildfire

"Beautiful. Riveting. Satisfying. An honor to read."--Ellen Airgood, author of South of Superior

"Emerick's story unfolds much like a fire. There are quiet moments at dusk, staring off into the distance, mesmerized by the particular beauty of fire. How landscapes and people take hold of our lives and change us. How wildfire and fighting fire regenerates. And frantic moments of trying to stay one step ahead: of catastrophe, of personal transformation, of grief. To read "Fire in the Heart" is to become part of the link in the chain, to find your place on the fire line, to understand more deeply what it means to be a wildlands firefighter and to keep one foot always in the black."--Cameron Scott, author of The Book of Cold Mountain, winner of The Blue Light Press Poetry Prize
"A tough and tender tale of human bonds forged through fire. Riveting." --Elizabeth Enslin, author of While the Gods Were Sleeping: A Journey Through Love and Rebellion in Nepal

"Emerick vividly recounts the extremely taxing physical requirements, the deadly conditions firefighters consistently endure, and the ever present lure of adventure and camaraderie each fire provides....A moving and bittersweet memoir of a woman's love affair with a unique profession."--Kirkus Reviews
"This is a story of love, friendship, wildfire, and death written in vivid prose fresh from the fireline. Mary Emerick was a little girl with spindly arms and legs who toughed it out to become a career wildland firefighter, hoping for "the big one" in the West and filling in the offseason as a "panther babe" on burns in Florida. There's as much heart as fire in this book. It took a "big one," the South Canyon Fire on Storm King Mountain, to bring home the deepest meanings of love, loss, and the bittersweet renewal of life that follows the flames."
--John N. Maclean, author of Fire on the Mountain: The True Story of the South Canyon Fire, and other books.

"Masterful! A beautiful, gripping exploration of Mary Emerick's twenty-five-year journey through the insular, dangerous, hyper-masculine world of wildfire. In riveting prose, Emerick writes of what she gave up–and what she gained–by choosing a life as a wildland firefighter. Fire in the Heart is a thoughtful meditation on the impact of wildland fire suppression on the American landscape, and on one woman's heart. I love this book!"—Mary Pauline Lowrey, author of Wildfire: a Novel

"Hour by hour, season by season, fire by fire, readers crisscross the country with Emerick as she rises to the challenges of this difficult life, even as she asks herself whether she can ever stop moving and find another kind of life, where staying might not mean entrapment, where freedom means home." --Bette Lynch Husted, author of Above the Clearwater: Living on Stolen Land

"Imagine facing a wildfire with nothing more than a pulaski and a drip torch. Now, imagine you are a young woman on a crew comprised mainly of athletic young men out to prove something to themselves and to each other. You're carrying a 40-pound pack on your back and slung under the pack is a deployable fire shelter that you may, or may not need, for your survival. Should the fire jump the line. Should you not be able to reach your safety zone. It will depend on the wind, the relative humidity, and things intangible, like luck. Like fate. Like bravery. Fire in the Heart is Mary Emerick's lyrical meditation on one woman's search for identity. A mesmerizing and compelling story of fire and courage and love and transformation."--Pamela Royes author of Temperance Creek, a memoir

"Mary Emerick's journey back to nature is one in search of herself. After two decades of fighting wildfire, she came home with the kind of stories we all need to hear; stories that help us understand that at times, we can be brave, we can be strong, we can be fully human." Murry A. Taylor, author of Jumping Fire: A Smokejumper's Memoir of Fighting Wildfire

"Beautiful. Riveting. Satisfying. An honor to read."--Ellen Airgood, author of South of Superior

"Emerick's story unfolds much like a fire. There are quiet moments at dusk, staring off into the distance, mesmerized by the particular beauty of fire. How landscapes and people take hold of our lives and change us. How wildfire and fighting fire regenerates. And frantic moments of trying to stay one step ahead: of catastrophe, of personal transformation, of grief. To read "Fire in the Heart" is to become part of the link in the chain, to find your place on the fire line, to understand more deeply what it means to be a wildlands firefighter and to keep one foot always in the black."--Cameron Scott, author of The Book of Cold Mountain, winner of The Blue Light Press Poetry Prize
"A tough and tender tale of human bonds forged through fire. Riveting." --Elizabeth Enslin, author of While the Gods Were Sleeping: A Journey Through Love and Rebellion in Nepal