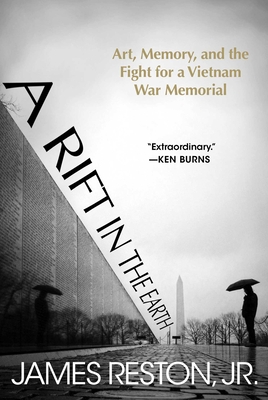 A Rift in the Earth (Hardcover)
Art, Memory, and the Fight for a Vietnam War Memorial
Arcade, 9781628728569, 304pp.
Publication Date: September 5, 2017
Other Editions of This Title:
Compact Disc (10/17/2017)
Paperback (4/7/2020)
MP3 CD (10/17/2017)
* Individual store prices may vary.
Description
A Distinguished and Bestselling Historian and Army Veteran Revisits the Culture War that Raged around the Selection of Maya Lin's Design for the Vietnam Memorial

A Rift in the Earth tells the remarkable story of the ferocious "art war" that raged between 1979 and 1984 over what kind of memorial should be built to honor the men and women who died in the Vietnam War. The story intertwines art, politics, historical memory, patriotism, racism, and a fascinating set of characters, from those who fought in the conflict and those who resisted it to politicians at the highest level. At its center are two enduring figures: Maya Lin, a young, Asian-American architecture student at Yale whose abstract design won the international competition but triggered a fierce backlash among powerful figures; and Frederick Hart, an innovative sculptor of humble origins on the cusp of stardom.

James Reston, Jr., a veteran who lost a close friend in the war and has written incisively about the conflict's bitter aftermath, explores how the debate reignited passions around Vietnam long after the war's end and raised questions about how best to honor those who fought and sacrificed in an ill-advised war. Richly illustrated with photographs from the era and design entries from the memorial competition, A Rift in the Earth is timed to appear alongside Ken Burns's eagerly anticipated PBS documentary, The Vietnam War. "The memorial appears as a rift in the earth, a long polished black stone wall, emerging from and receding into the earth." —Maya Lin

"I see the wall as a kind of ocean, a sea of sacrifice. . . . I place these figures upon the shore of that sea." —Frederick Hart
About the Author
James Reston, Jr. was an assistant to Secretary of the Interior Stewart Udall before serving in the US Army from 1965 to 1968. He is the bestselling author of seventeen books— including The Conviction of Richard Nixon: The Untold Story of the Frost/Nixon Interviews, which helped inspire the film Frost/Nixon (2008)— three plays, and numerous articles in The New Yorker, Vanity Fair, and the New York Times Magazine. He won the Prix Italia and Dupont-Columbus Award for his NPR radio documentary, Father Cares: The Last of Jonestown. He lives with his wife in Chevy Chase, Maryland.
Praise For A Rift in the Earth: Art, Memory, and the Fight for a Vietnam War Memorial…
"The divisions that ripped the country apart during the Vietnam War were rekindled in the struggle to bring the Vietnam Memorial to life. But unlike the war itself, that second struggle resulted in a shared reconciliation this extraordinary book charts."—Ken Burns

"This book is just fantastic in its insights and quality of writing."—Jan Scruggs, founder and president emeritus of the Vietnam Veterans Memorial Fund

"Superb and unexpectedly affecting . . . [The] definitive history of the memorial."—New York Times Book Review

"Reston retells the story dramatically, dredging up material that many of the players in this drama might wish to remain forgotten."—Washington Post

"Searing and sweeping, Reston's narrative captures the political, cultural, and social ferment of those heady days of Vietnam and its aftermath with great skill and erudition. A Rift in the Earth is an indispensable guide through the cultural wars at the heart of the memorial itself, and a powerful reminder why it was so important that we find a way to move forward from the division of war to begin a healing within our country and between the United States and Vietnam."—John F. Kerry, 68th US Secretary of State

"This is a story that needs to be told, and James Reston, Jr., tells it very well. I believe that readers will soon find themselves taking and even changing sides as the Art War in his account heats up and then reaches its conclusion. For me, the Wall and the entranceway that resulted from the Art War controversy provide a place to find closure for those who fought the war, those whose loved ones did not return, and even those who violently opposed it."—Lieutenant General Ron Christmas, USMC (Retired), Former President & CEO, Marine Corps Heritage Foundation

"In A Rift in the Earth, Army veteran James Reston details the controversy surrounding the creation of the Vietnam War Memorial -- an undertaking that reopened political, moral and cultural divisions about the war long after its end. Deeply personal, as moving as it is instructive, Reston's account captures the complicated struggle that ensued over how to honor our Vietnam War veterans, and reminds us that in the decades following that bloody and protracted conflict, a generation of Americans continue to find healing at the powerful memorial in our nation's capital."—Senator John McCain

"A Rift in the Earth is an absolutely fascinating account of the artistic, political, personal, and cultural tensions that arose from America's most divisive war, and that led to one the country's greatest works of public art. I followed the controversy over the Vietnam Veterans memorial when it was underway, but I learned from almost every page of this book. This is a great narrative and reportorial success."—James Fallows, The Atlantic

"James Reston's clear-eyed account of how the Vietnam Veterans Memorial came to be is fascinating, wrenching, and ultimately uplifting. He illuminates the war and its complicated aftermath with a dramatic narrative of the fierce battle behind the Memorial's creation. Told from a deeply affecting personal perspective, this is an important story about the significance of art to the nation."—Bobbie Ann Mason, author of In Country and The Girl in the Blue Beret

"The Vietnam Memorial Wall would never have existed if a handful of angry Vietnam Veterans and their influential allies had won their fight to kill the project a generation ago. Reston's riveting history of the battle for Maya Lin's unconventional and moving monument brings to life the personalities on both sides as well as the emotions that galvanized such intense disagreement and mirrored the deep rift of the war itself. Equally powerful is Reston's final "Author's Reflection," about his journey to Vietnam today to recapture the last days of a friend killed in Hue whose name is on the Wall."—Myra MacPherson, author of the bestselling Long Time Passing: Vietnam and the Haunted Generation and the award-winning All Governments Lie: The Life and Times of Rebel Journalist I. F. Stone

"Powerful . . . Readers will find it nearly impossible not to have visceral reactions, taking sides in these events that, in light of fights over Civil War monuments today, still seem fresh."—Kirkus, starred review

"Moving . . . casts a wide net of interest and will appeal to Vietnam-era scholars, art historians, and general readers."—Library Journal

"Historian and Vietnam veteran Reston shares the rocky, controversy-filled story behind the Vietnam Veterans Memorial (popularly known as the Wall) in this well-written examination of how the memorial was conceived and built. . . . A creditable account of this contentious affair."—Publishers Weekly
"Reston offers a fascinating and multifaceted account of the memorial's history—and politics."—"Revisiting the Vietnam War" by Neil Wyatt, Library Journal

"Reston, who served in army intelligence during the Vietnam War, dramatically and incisively chronicles the "art war" over the Vietnam Veterans Memorial that raged from 1979 to 1984, reopening the wounds of that tragic conflict. . . . As current battles are waged over public statues honoring leaders of the Confederacy, Reston's account of an earlier struggle over the art of remembrance offers a clarifying and affecting perspective."—Booklist

"Reston's newest book is not only timely, it's also the perfect complement to Ken Burns's ten-part documentary on the Vietnam War, airing now on PBS."—Houston Press

"For those readers who believe the study of history may contain meaning for the present generation, this book, especially when combined with David Halberstam's The Best and the Brightest and Ken Burns's recent Vietnam documentary, will illuminate a dark corner in America's past. . . . A fitting capstone to that critical period of our history."—Lincoln Journal Star

"The divisions that ripped the country apart during the Vietnam War were rekindled in the struggle to bring the Vietnam Memorial to life. But unlike the war itself, that second struggle resulted in a shared reconciliation this extraordinary book charts."—Ken Burns

"This book is just fantastic in its insights and quality of writing."—Jan Scruggs, founder and president emeritus of the Vietnam Veterans Memorial Fund

"Superb and unexpectedly affecting . . . [The] definitive history of the memorial."—New York Times Book Review

"Reston retells the story dramatically, dredging up material that many of the players in this drama might wish to remain forgotten."—Washington Post

"Searing and sweeping, Reston's narrative captures the political, cultural, and social ferment of those heady days of Vietnam and its aftermath with great skill and erudition. A Rift in the Earth is an indispensable guide through the cultural wars at the heart of the memorial itself, and a powerful reminder why it was so important that we find a way to move forward from the division of war to begin a healing within our country and between the United States and Vietnam."—John F. Kerry, 68th US Secretary of State

"This is a story that needs to be told, and James Reston, Jr., tells it very well. I believe that readers will soon find themselves taking and even changing sides as the Art War in his account heats up and then reaches its conclusion. For me, the Wall and the entranceway that resulted from the Art War controversy provide a place to find closure for those who fought the war, those whose loved ones did not return, and even those who violently opposed it."—Lieutenant General Ron Christmas, USMC (Retired), Former President & CEO, Marine Corps Heritage Foundation

"In A Rift in the Earth, Army veteran James Reston details the controversy surrounding the creation of the Vietnam War Memorial -- an undertaking that reopened political, moral and cultural divisions about the war long after its end. Deeply personal, as moving as it is instructive, Reston's account captures the complicated struggle that ensued over how to honor our Vietnam War veterans, and reminds us that in the decades following that bloody and protracted conflict, a generation of Americans continue to find healing at the powerful memorial in our nation's capital."—Senator John McCain

"A Rift in the Earth is an absolutely fascinating account of the artistic, political, personal, and cultural tensions that arose from America's most divisive war, and that led to one the country's greatest works of public art. I followed the controversy over the Vietnam Veterans memorial when it was underway, but I learned from almost every page of this book. This is a great narrative and reportorial success."—James Fallows, The Atlantic

"James Reston's clear-eyed account of how the Vietnam Veterans Memorial came to be is fascinating, wrenching, and ultimately uplifting. He illuminates the war and its complicated aftermath with a dramatic narrative of the fierce battle behind the Memorial's creation. Told from a deeply affecting personal perspective, this is an important story about the significance of art to the nation."—Bobbie Ann Mason, author of In Country and The Girl in the Blue Beret

"The Vietnam Memorial Wall would never have existed if a handful of angry Vietnam Veterans and their influential allies had won their fight to kill the project a generation ago. Reston's riveting history of the battle for Maya Lin's unconventional and moving monument brings to life the personalities on both sides as well as the emotions that galvanized such intense disagreement and mirrored the deep rift of the war itself. Equally powerful is Reston's final "Author's Reflection," about his journey to Vietnam today to recapture the last days of a friend killed in Hue whose name is on the Wall."—Myra MacPherson, author of the bestselling Long Time Passing: Vietnam and the Haunted Generation and the award-winning All Governments Lie: The Life and Times of Rebel Journalist I. F. Stone

"Powerful . . . Readers will find it nearly impossible not to have visceral reactions, taking sides in these events that, in light of fights over Civil War monuments today, still seem fresh."—Kirkus, starred review

"Moving . . . casts a wide net of interest and will appeal to Vietnam-era scholars, art historians, and general readers."—Library Journal

"Historian and Vietnam veteran Reston shares the rocky, controversy-filled story behind the Vietnam Veterans Memorial (popularly known as the Wall) in this well-written examination of how the memorial was conceived and built. . . . A creditable account of this contentious affair."—Publishers Weekly
"Reston offers a fascinating and multifaceted account of the memorial's history—and politics."—"Revisiting the Vietnam War" by Neil Wyatt, Library Journal

"Reston, who served in army intelligence during the Vietnam War, dramatically and incisively chronicles the "art war" over the Vietnam Veterans Memorial that raged from 1979 to 1984, reopening the wounds of that tragic conflict. . . . As current battles are waged over public statues honoring leaders of the Confederacy, Reston's account of an earlier struggle over the art of remembrance offers a clarifying and affecting perspective."—Booklist

"Reston's newest book is not only timely, it's also the perfect complement to Ken Burns's ten-part documentary on the Vietnam War, airing now on PBS."—Houston Press

"For those readers who believe the study of history may contain meaning for the present generation, this book, especially when combined with David Halberstam's The Best and the Brightest and Ken Burns's recent Vietnam documentary, will illuminate a dark corner in America's past. . . . A fitting capstone to that critical period of our history."—Lincoln Journal Star