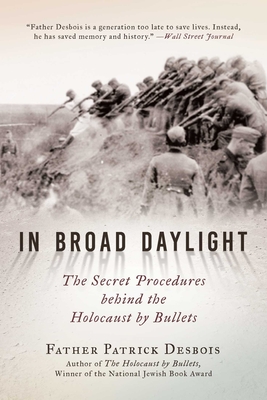 In Broad Daylight (Hardcover)
The Secret Procedures Behind the Holocaust by Bullets
Arcade Publishing, 9781628728576, 312pp.
Publication Date: January 23, 2018
Description
In his National Jewish Book Award-winning book The Holocaust by Bullets, Father Patrick Desbois documented for the first time the murder of 1.5 million Jews in Ukraine during World War II, based on wartime records, interviews with locals, and the application of modern forensic practices on long-hidden grave sites. Nearly a decade of further work by his team, drawing on interviews with four thousand neighbors of the Jews, has resulted in stunning new findings about the extent and nature of the genocide. In Broad Daylight documents mass killings in seven countries formerly part of the Soviet Union that were invaded by Nazi Germany. It shows how these murders followed a template, or script, which included a timetable that was duplicated from place to place. Far from being kept secret, the killings were done in broad daylight and deliberately involved the local inhabitants in the mechanics of death--whether it was to cook for the killers, to dig or cover the graves, to witness their Jewish neighbors being marched off, or to take part in the slaughter. The Nazis availed themselves of local structures and people in order to make the Eastern Holocaust happen. Narrating in lucid, powerful prose that has the immediacy of a crime report, Father Desbois assembles a chilling account of how, concretely, these events took place in village after village, from the selection of the date to the twenty-four-hour period in which the mass murders unfolded. Today, such groups as ISIS put into practice the Nazis' lessons on making genocide efficient. The book includes an historical introduction by Andrej Umansky, research fellow at the Institute for Criminal Law and Criminal Procedure, University of Cologne, Germany, and historical and legal advisor to Yahad-In Unum.
About the Author
Father Patrick Desbois is president of Yahad in Unum, founded with Cardinal Lustiger, archbishop of Paris, and Israel Singer, chairman of the World Jewish Congress, and holds an endowed professorship at Georgetown University. He is the author of The Holocaust by Bullets, winner of the 2008 National Jewish Book Award, and has received numerous honors for his groundbreaking work on the Holocaust, including the Humanitarian Award from the US Holocaust Museum. He travels extensively for speaking engagements and has appeared twice on 60 Minutes. He resides in Washington, DC, and Paris, France.
Advertisement