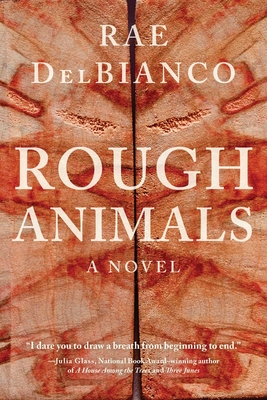 Rough Animals
An American Western Thriller
Hardcover

* Individual store prices may vary.
Other Editions of This Title:
Paperback (9/3/2019)
MP3 CD (3/17/2020)
Description
The 25 Best Thriller Books of the Summer—New York Post
Best New Books Coming Out Summer 2018 —Southern Living
46 Great Books to Read This Summer—Nylon
Dazzling Debuts"—WYPR, "The Weekly Reader"
8 New Books You Should Read This June—vulture.com
Summer Thrillers That Will Have You at the Edge of Your Chaise Lounge—Refinery29

What We Read, Watched, and Listened to in May—Outside

"Furious and electric . . . a fever dream."—Publishers Weekly, *Starred Review!*
Breaking Bad meets No Country for Old Men... Ever since their father's untimely death five years before, Wyatt Smith and his inseparably close twin sister, Lucy, have scraped by alone on their family's isolated ranch in Box Elder County, Utah. That is until one morning when, just after spotting one of their steers lying dead in the field, Wyatt is hit in the arm by a hail of gunfire that takes four more cattle with it. The shooter: a fever-eyed, fearsome girl-child with a TEC-9 in her left hand and a worn shotgun in her right. They hold the girl captive, but she breaks loose overnight and heads south into the desert. With the dawning realization that the loss of cattle will mean the certain loss of the ranch, Wyatt feels he has no choice but to go after her and somehow find restitution for what's been lost.

Wyatt's decision sets him on an epic twelve-day odyssey through a nightmarish underworld he only half understands; a world that pitches him not only against the primordial ways of men and the beautiful yet brutally unforgiving landscape, but also against himself. As he winds his way down from the mountains of Box Elder to the mesas of Monument Valley and back, Wyatt is forced to look for the first time at who he is and what he's capable of, and how those hard truths set him irrevocably apart from the one person he's ever really known and loved. Steeped in a mythic, wildly alive language of its own, and gripping from the first gunshot to the last, Rough Animals is a tour de force from a powerful new voice.
Praise For Rough Animals: An American Western Thriller…
"Furious and electric . . . The novel succeeds as a viscerally evoked and sparely plotted fever dream, a bleakly realized odyssey through an American west populated by survivors and failed dreamers."
—Publishers Weekly, *Starred Review!*

"This take-no-prisoners debut from DelBianco has been compared to Cormac McCarthy, Denis Johnson, Ron Rash, Donald Ray Pollock, and Jim Thompson, and rather than argue, we'll just throw in Gabriel Tallent. Against a backdrop of ferocious, visceral, almost psychedelically intense nature writing. . . Man, this 'redneck kid author' can write."
—Kirkus Reviews, *Starred Review!*

"In this high-octane, take-no-prisoners debut, Rae DelBianco portrays the mayhem and grit of the new West with the demon eye of Cormac McCarthy but a fierce heart very much her own. I dare you to draw a breath from beginning to end."
—Julia Glass, National Book Award-winning author of A House Among the Trees and Three Junes

"In this haunting new novel by Rae DelBianco, a child with a gun interrupts the lives of twins Wyatt and Lucy at their ranch in Utah, prompting Wyatt to set out on a harrowing journey across both interior and exterior landscapes?both of which prove equally complex to navigate."
—Southern Living, Best New Books Coming Out Summer 2018

"Written . . . so provocatively and viscerally."—Nylon, "46 Great Books to Read This Summer"

"A lyrical thriller garnering comparisons to Cormac McCarthy and Denis Johnson . . . Will appeal to anyone who, like me, watched Godless and suddenly realized they like Westerns after all. . . . To simply describe the plot is to undersell the book's key quality—the way DelBianco's arresting, lyrical sentences seem to activate all five senses, plus your sense of fear."—Refinery29, Summer Thrillers That Will Have You at the Edge of Your Chaise Lounge

"Rae DelBianco has a knack for writing action. . . .Once Wyatt is on the road, [she] showcases her talent for rich descriptions of the natural landscape, as well as a lack of abashment in approaching brutality head-on."—Chicago Review of Books

"Enrapturing . . . A brutal but beautifully written Western."—vulture.com, "8 New Books You Should Read This June"

"The tension doesn't let up. . . . If the narrative keeps you turning the pages, her almost Biblical voice makes you want to stay and dwell on each sentence."—Outside, "What We Read, Watched, and Listened to in May"

"[A] dazzling debut."—WYPR, "The Weekly Reader"

"A brilliant, incandescent debut that will remind everyone of a young Cormac McCarthy."
—Philipp Meyer, author of American Rust and Pulitzer Prize finalist The Son

"Rough Animals is the kind of novel that can teach you the mechanics of dissecting a bull with only an axe and a knife, or how to survive on a coyote's blood if you're waterless in the desert. It renders its portrait of brother-sister love and their pitiless world of the badlands of northern Utah with some of Denis Johnson's flamboyant lyricism, when it comes to longings for transcendence, and with more than a little of Cormac McCarthy's implacable vision of a world in which we survive by doing the thing most others could not bring themselves to do."
—Jim Shepard, Story Prize winner and author of The World to Come and Like You'd Understand, Anyway

"A wild and alive debut, full of grit, gunfire, blood, and bad news. Rough Animals is as phantasmagoric as McCarthy and as pitiless as Jim Thompson. A rare treat."
—Joshua Ferris, bestselling author of The Dinner Party and Then We Came to an End

"DelBianco's captivating debut, Rough Animals, stakes its claim to the modern Western, substituting assault weapons for six-shooters and cartel members for the old-fashioned gunslingers in a story told with a style of classic American grit."
—Douglas Brunt, New York Times bestselling author of Ghosts of Manhattan and The Means

"Rough Animals . . . is that rara avis: a fiction debut at once sure-footed, almost existentially gripping, and raucously, violently unexpected."—Vogue

Rough Animals is not only a wild, unnerving story, but a heart-hammering experience. . . . If you like The Godfather, The Patriot, or any other epics full of revenge, familial bonds, and brutal bloodshed, you're sure to enjoy Rough Animals."
—mybookishbones

"You know when you start a new book and you just know that it's going to be a favorite for years to come? The kind of book that grips you by the hackles from the first line and never lets go? The kind that you have to ration your reading of because you don't want it to end? This was one of those books… I am in love with this book… There wasn't a single page I didn't love, a single word I felt was out of place, or a single moment where I wasn't moved or scared or fascinated or amazed. I truly believe that this book will be considered a classic one day, and its author a legend. For anyone looking for an incredibly well written and heart-thumping story, for a gritty and fast-paced thriller, or for a book that will simply blow your mind, then I wholeheartedly recommend this novel."
—The Joycean Booknerd

"A tale that takes you on a hypnotic sensory road in a terrible beauty of a narrative."—more2read.com

***** What Reviewers Are Saying *****

"Rae DelBianco has an inimitable voice all her own… I found her to be a poetic voice in the wilderness, both literally and figuratively. Ms. Delbianco is able to take horrific scenes and make your heart weep. She is able to write about things seemingly mundane and make you feel that you'll never experience them the same way again. That this is a debut novel is difficult to believe… This book is sure to make my top ten of the year."
—Bonnie Brody, Vine Voice

"I can't endorse this book highly enough. It's one of the best books I've read this year. The writing is a sensational experience!"
—Elyse, Goodreads

"Dynamic, lyrical masterpiece."
—Mr. August, Vine Voice

"Rough Animals is precisely an excellent example of how a powerful new voice shapes the formidable novel. The story is written so ably that I'd never thought it's a debut novel. The beauty of narration is murderous. It's a deadly weapon in Rae's arms, and she gladly carries the bloodshed not only on the pages of her novel but makes the reader bleeding with her narrative style in such an elegant and neat way. A couple of comparisons almost killed me with their beauty. It's the book I envy I didn't write by myself."
—Alisa Ellie, Goodreads

"From the opening sentence of Rough Animals by author Rae DelBianco, the language is captivating, bringing beauty to a primal landscape, a lost world."
—Kimberly Jacovich, Goodreads

"This young author will be a force. I don't normally stay up all night to finish a book, but I could not put Rough Animals down. There are comparisons being made to Cormac McCarthy; I'd say they are spot on. I also see parallels with Larry McMurtry, Steinbeck and Faulkner."
—Deb Coco, Goodreads

"Hard to believe that this is a debut novel. Intense thrills, visceral violence and a distinctive literary bent... Will look for [DelBianco]'s next book."
—Andrew Eichner, NetGalley

"Best 2018 novel so far. A post-Western odyssey in a Malebrancheian theodicy. 'This redneck kid author can write.'"
—Pauolo Latini, Goodreads

Arcade, 9781628729733, 304pp.
Publication Date: June 5, 2018
About the Author
Rae DelBianco was raised in Bucks County, Pennsylvania, where she wrote and raised livestock from a young age. She attended Duke University as a Robertson Scholar and was later accepted to Curtis Brown's six-month novel writing course in London.