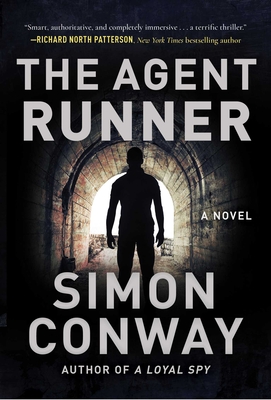 The Agent Runner
A Novel
Paperback

* Individual store prices may vary.
Other Editions of This Title:
Paperback (9/23/2014)
Hardcover (1/3/2017)
Description
From the winner of an Ian Fleming Steel Dagger Award, a spy who came in from the cold for today's wars.

British by birth, foreign by descent, and agnostic by conviction, Edward Henry Malik is an MI6 handler—an agent runner. For four years he has been running an agent codenamed Nightingale inside Pakistan's notorious ISI, keeping watch on its links to Al Qaeda and the Taliban and its machinations in neighboring Afghanistan, but mostly monitoring for threats to the British homeland. Then, in the aftermath of Osama bin Laden's killing, Nightingale is exposed and Ed's world falls apart.

Dismissed from MI6 and with his reputation in tatters, Ed returns to his roots in the immigrant enclave of Whitechapel in London's East End. He takes a job at a freight forwarding office and unexpectedly falls in love with the proprietor's daughter. It seems as if he has finally found respite from his demons. But you can't escape your past. Ed knows too much, and he has come to the attention of Major General Javid Aslam Khan—Pakistan's legendary spymaster, known as the Hidden Hand.

This lean, propulsive thriller tells a classic story of love, trust, and betrayal set against today's Great Game, while in the background swirl rumors of a one-legged mullah and a shadowy militia with the means to detonate a dirty bomb.
 
Praise For The Agent Runner: A Novel…
"From first to last, The Agent Runner is smart, authoritative and completely immersive, a pleasure to read. Simon Conway knows his espionage and, equally important, knows how to write. This is a terrific thriller." —Richard North Patterson, New York Times bestselling author

"Conway is a master of taut, evocative prose, delivering blanching terror at a relentless pace. The Agent Runner is a dazzling tale of the wrenching human toll wrought by clandestine geopolitics." —Eliot Pattison, award-winning author of the Inspector Shan series

"An edgy, brutal thriller that serves up a dangerous cocktail of double agents, nasty sex, drugs and sadistic torture. Simon Conway takes us behind the headlines in Pakistan and Afghanistan, unveiling a grotesque nightmare of betrayal, violence and political vendettas in the aftermath of 9/11. Every page contains a hidden landmine and nobody is spared. An explosive read, right down to the final paragraph." —Stephen Alter, author of The Rataban Betrayal

?"In this hard-nosed thriller . . . Conway, a former British army officer, excels at capturing the brutality and duplicity of the ways of espionage. Many of his scenes, particularly late in the story, are disturbingly realistic, with magnetism that plays out before your unblinking eyes." —Publishers Weekly

"Conway's lean and propulsive prose makes the moral murk of deceit and betrayal compelling, and his take on the historic price of British involvement in the Middle East rings true." —Booklist

"If you're in the mood for duplicity, violence and behind-the-scenes political deal-making, you've come to the right place. Conway delivers in such an authoritative manner that the reader may suspect this is a true story that never quite made it to the headlines." —BookPage

"Vivid, true to life, brilliantly written, The Agent Runner by Simon Conway is OUTSTANDING!" —Jon Snow, broadcaster, Channel 4 News

"A classic tale of spies and subterfuge set in modern Afghanistan" —The Scotsman

"Barely giv[es] the reader a chance to draw breath." —Express Tribune, Karachi

"A thumping read that joins the dots in the War on Terror. Conway writes with passion and authority." —Tim Butcher, author of Blood River

"It's sprawling, violent, and contemporary, with whiffs of authenticity that lift it above the crowd." —Spectator (for A Loyal Spy)

"Conway has concocted a credible, and wholly cynical, tale of dirt, death, and double-dealing." —Times (for A Loyal Spy)
Arcade, 9781628729870, 312pp.
Publication Date: March 12, 2019
About the Author
Simon Conway is the author of The Agent Runner. Born in California in 1967, he studied English literature at the University of Edinburgh and served in a Highland regiment of the British army. Since leaving the military he has worked for the HALO Trust clearing land mines and explosive remnants of war around the world, most recently in Syria. As co-chair of the global Cluster Munition Coalition, he successfully campaigned for the 2008 international treaty that banned cluster bombs. He resides in Scotland with his wife.
or
Not Currently Available for Direct Purchase