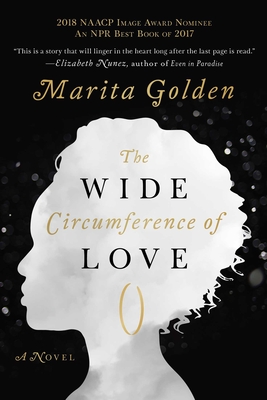 The Wide Circumference of Love
A Novel
Paperback

* Individual store prices may vary.
Other Editions of This Title:
Digital Audiobook (1/4/2018)
Library Binding, Large Print (5/1/2017)
Description
A 2018 NAACP Image Award nominee and an NPR Best Book of 2017, a moving African-American family drama of love, devotion, and Alzheimer's disease.

Diane Tate never expected to slowly lose her talented husband to the debilitating effects of early-onset Alzheimer's disease. As a respected family court judge, she's spent her life making tough calls, but when her sixty-eight-year-old husband's health worsens and Diane is forced to move him into an assisted living facility, it seems her world is spinning out of control.

As Gregory's memory wavers and fades, Diane and her children must reexamine their connection to the man he once was—and learn to love the man he has become. For Diane' daughter Lauren, it means honoring her father by following in his footsteps as a successful architect. For her son Sean, it means finding a way to repair the strained relationship with his father before it's too late. Supporting her children in a changing landscape, Diane remains resolute in her goal to keep her family together—until her husband finds love with another resident of the facility. Suddenly faced with an uncertain future, Diane must choose a new path—and discover her own capacity for love.
Praise For The Wide Circumference of Love: A Novel…
Praise for The Wide Circumference of Love:

"Golden's redemptive novel is a tale of family survival in which love softens the brutal edges of an insidious disease." - Kirkus reviews

"Golden takes a frank and authentic approach to dementia's relentless and all-encompassing nature--losing one's dignity, forgetting loved ones' names, bewildering personality changes, disappearing friends--while also calling attention to the increased prevalence of Alzheimer's in the African American community. Indeed, any one of these problems and stories could be the plot of a separate novel, but Golden connects them seamlessly and compassionately, treating each with the prismatic complexity that defines family crises. In doing so, she makes each character's past an integral part of their present, as well as their impetus to move forward into a new and unexpected future." - Melissa Firman, Shelf Awareness, starred review

"[A] beautiful novel."—NPR

"[A] must-read . . . Achingly real."—Essence

"Unflinching . . . Golden's writing is as poetic as it is heartbreaking."—Washington Independent Review of Books

"A deeply resonant and important novel that everyone should read. Marita Golden writes with unsurpassed grace and humanity about Alzheimer's, family, the burden of memory and the enduring power of love." - Julie Otsuka, bestselling author of The Buddha in the Attic

"This is a story that will linger in the heart long after the last page is read." - Elizabeth Nunez, author of Even in Paradise

"In clear, captivating prose, this distinctive and hopeful voice—a voice essential to the canon of Alzheimer's literature—tells an absorbing story of family disintegration, redemption, hope, and renewal, all made possible through the vehicle of love." - Cathie Borrie, author of The Long Hello: Memory, My Mother, and Me

"In Marita Golden's heartbreaking new novel The Wide Circumference of Love, the Tate family faces the loss of their once unshakable patriarch as the disease transforms him into someone they hardly recognize . . . In the hands of Ms. Golden, their path to understanding and renewal slowly reveals the strength of family, the power of love and the mystery of redemption." - Pearl Cleage, author of What Looks Like Crazy on an Ordinary Day

"Marita Golden's exceptional new novel takes an honest and unsparing look at the devastation Alzheimer's Disease causes in even the most caring and accomplished of families. Remarkably, it also celebrates the meaning, healing, hope—and even joy—that may still be found in the lives of everyone involved." - Jean Hegland, author of Into the Forest and Still Time

"Heartbreakingly beautiful, The Wide Circumference of Love is filled with hope and happiness." — Bernice L. McFadden, author of The Book of Harlan

Praise for Marita Golden's writing:

"It is always heartening to see women step up to the writer's table. When the results are as adroit and affecting as Marita Golden's work, it is more than satisfying it is a cause for celebration." - Nobel Laureate Toni Morrison

"Marita Golden has captured the special pain that shadows the joy of Black parenthood in these turbulent times. Elegantly written this book is a breakthrough." - Chicago Tribune on Saving Our Sons

"[Long Distance Life is] a novel of impressive artistry and power." - Washington Post

"A wonderful storyteller, an uncompromising mind, Marita Golden explores the African-American experience in a completely original way." - Newsweek

"Marita Golden writes with a fine hand." - Newsday

"An acclaimed chronicler of Black women's lives." - Kirkus Reviews

"Golden has a rare gift for the poetry of language." - San Francisco Examiner and Chronicle

"Golden's women are altogether knowable and most unforgettable: their struggle to find their way back to some tiny form of normalcy will make a place in a reader's memory and heart." —Edward P. Jones, Author of The Known World

"[A] beautiful novel."—NPR

"[A] must-read . . . Achingly real."—Essence

"Unflinching . . . Golden's writing is as poetic as it is heartbreaking."—Washington Independent Review of Books
Arcade, 9781628729900, 300pp.
Publication Date: September 11, 2018
About the Author
Marita Golden, cofounder and president emeritus of the Hurston/Wright Foundation, is a veteran teacher of writing and an acclaimed award-winning author of more than a dozen works of fiction and nonfiction. She has served as a member of the faculties of the MFA graduate creative writing programs at George Mason University and Virginia Commonwealth University and in the MA creative writing program at John Hopkins University, and has taught writing internationally to a variety of constituencies. She currently lives in Maryland.
or
Not Currently Available for Direct Purchase