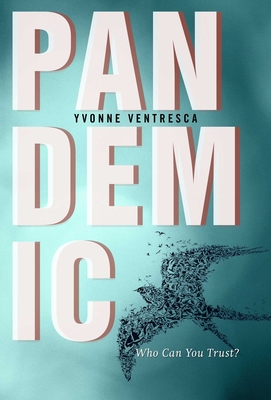 Pandemic
Hardcover

* Individual store prices may vary.
Other Editions of This Title:
Paperback (6/7/2022)
Paperback (7/5/2016)
Description
The 2015 SCBWI Crystal Kite Winner for the Atlantic region!

Even under the most normal circumstances, high school can be a painful and confusing time. Unfortunately, Lilianna's circumstances are anything but normal. Only a few people know what caused her sudden change from model student to the withdrawn pessimist she has become, but her situation isn't about to get any better. When people begin coming down with a quick-spreading illness that doctors are unable to treat, Lil's worst fears are realized. With her parents called away on business before the contagious outbreak—her father in Delaware covering the early stages of the disease and her mother in Hong Kong and unable to get a flight back to New Jersey—Lil's town is hit by what soon becomes a widespread illness and fatal disaster. Now, she's more alone than she's been since the "incident" at her school months ago.

With friends and neighbors dying all around her, Lil does everything she can just to survive. But as the disease rages on, so does an unexpected tension as Lil is torn between an old ex and a new romantic interest. Just when it all seems too much, the cause of her original trauma shows up at her door. In this thrilling debut from author Yvonne Ventresca, Lil must find a way to survive not only the outbreak and its real-life consequences, but also her own personal demons.

Sky Pony Press, with our Good Books, Racehorse and Arcade imprints, is proud to publish a broad range of books for young readers—picture books for small children, chapter books, books for middle grade readers, and novels for young adults. Our list includes bestsellers for children who love to play Minecraft; stories told with LEGO bricks; books that teach lessons about tolerance, patience, and the environment, and much more. While not every title we publish becomes a New York Times bestseller or a national bestseller, we are committed to books on subjects that are sometimes overlooked and to authors whose work might not otherwise find a home.
Praise For Pandemic…
Winner of the 2015 SCBWI Crystal Kite Award for the Atlantic region

Shortlisted for the West Australian Young Readers Book Award

"The best novels are multi-layered, presenting the reader with new questions at every turn of the page. Pandemic is truly exceptional in that regard—its teen protagonist, Lily, is stuggling with a dark secret from her past, her first tentative romances, and a horrifying pandemic that throws her town into utter chaos. Ventresca's debut novel will appeal to those who love realistic coming of age stories, romances, or disaster fiction. Bravo!" —Mike Mullin, award-winning author of the Ashfall trilogy

"Yvonne Ventresca's debut novel hits the ground running and never stops until the last page. This fast paced story about a teen who struggles to regain her sense of safety after an assault will have you reading well into the night. You'll have to find out how Lil survives . . . alone . . . surrounded by death . . . and fearful her attacker will return at any moment. Pandemic is an exciting new addition to young adult books." —C. Lee McKenzie, author of Sliding on the Edge and The Princess of Las Pulgas

"A suspenseful, authentic, and emotional narrative makes Pandemic a gripping and powerful story. . . . Riveting and terrifyingly real with moments of hope that shine through when you least expect it, Pandemic is one that will stay with you long after you read the last page." —Amalie Howard, author of the Alpha Goddess and Aquarathi series and the Riven Chronicles

"As is to be expected in an apocalyptic novel, there is no shortage of tension or death and a few gruesomely dead bodies, but teen disaster fans will likely appreciate that the high schoolers are portrayed as good, helpful people, but certainly not perfect." —Booklist

"This is an engrossing apocalyptic story, told through Lil's eyes and newsfeeds as her neighborhood, then the East Coast, and finally the entire U.S. buckles to its knees as the pandemic spreads. . . . Themes of friendship and coming together in a crisis carry the novel." —School Library Journal

"Ventresca just manages to take it to new and interesting places by making her main character one who is forced to deal with the emotional struggles of abuse in the midst of the end of the world." —School Library Journal/Teen Librarian Toolbox

"In her first novel, Ventresca pulls together three unrelated themes to create a medical thriller/romance. . . . This realistic page-turner will keep most readers enthralled." —Kirkus Reviews

"I can honestly say this is one of my favorite reads thus far this year and easily ranks in my top 25 favorite disaster novels. Yeah, it is that good. . . . It is obvious the author has done her homework." —Survival Weekly

"Pandemic is a fast and gripping story. . . . The plot never failed to impress me; there was always a surprise around the corner." —Teen Ink

"I love how the author spins her own unique twist into what might have been yet another deadly-disease-plague-that-kills-everyone story." —YA Books Central

"Pandemic is a win. I never put it down, and never wanted to. It terrified me, excited me, and moved me. It even threw in some swooniness and charm just for giggles." —The YA Buzz

"An intriguing story about emotional trauma, fear, danger, and the will to survive you won't want to put down." —KidsBookshelf.com

"This book really speaks about the resiliency of the human spirit." —Shelf Full of Books

"The brilliance of this book lies in its simplicity, its crispness, its economy of detail, its characterization, and especially in its mastery of psychological horror." —Boy Book of the Month Blog
Sky Pony, 9781628736090, 352pp.
Publication Date: May 6, 2014
About the Author
Yvonne Ventresca is a young adult author with two previously published nonfiction books and numerous articles for print and online publications. She currently resides with her husband and two teenage children in New Jersey.
or
Not Currently Available for Direct Purchase