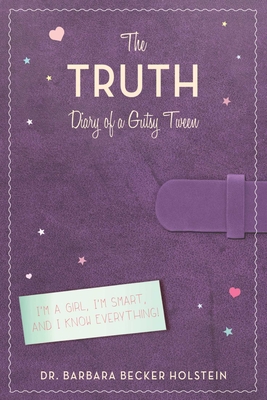 The Truth (Hardcover)
Diary of a Gutsy Tween
Sky Pony, 9781628736113, 176pp.
Publication Date: July 1, 2014
* Individual store prices may vary.
Description
Growing up is tough. Adults don't always understand you (even though they were once kids), and children today face increasing pressure to be, look, or act a certain way. Written in the voice of a girl on the cusp of becoming a teenager, The Truth provides young girls with an opportunity to see how a girl, who is in many ways like themselves, handles her toughest problems and most personal thoughts. Each new page brings forth a discussion to help girls handle everyday problems: How do you survive a bully? How do you handle a crush on a boy? What can you do about relentless teasing by your peers? What really matters as you grow older?

In a positive and supportive diary-entry format, Dr. Barbara Becker Holstein encourages tween girls to carry the most precious parts of themselves into adulthood. A great book for mothers and daughters to read together, The Truth is aimed to improve communication, understanding, and self-esteem for young girls as they enter the rocky road of teenager-dom.

Sky Pony Press, with our Good Books, Racehorse and Arcade imprints, is proud to publish a broad range of books for young readers—picture books for small children, chapter books, books for middle grade readers, and novels for young adults. Our list includes bestsellers for children who love to play Minecraft; stories told with LEGO bricks; books that teach lessons about tolerance, patience, and the environment, and much more. While not every title we publish becomes a New York Times bestseller or a national bestseller, we are committed to books on subjects that are sometimes overlooked and to authors whose work might not otherwise find a home.
About the Author
Dr. Barbara Becker Holstein is a positive psychologist and writer. Holstein is the originator of the Enchanted Self® positive psychology method for increasing happiness and has a private practice in New Jersey. She is the author of positive therapy books for adults such as The Enchanted Self, as well as a series of popular fictional diaries for girls. She lives in Long Branch, New Jersey.
Praise For The Truth: Diary of a Gutsy Tween…
"Woven through the entertaining stories are messages of self-esteem, self-reliance, getting to know yourself, having adventures, and understanding parents and their limitations." —Sandra Prince-Embury, PhD, clinical psychologist at the Resiliency Institute of Allenhurst

"This wonderful story is about a girl on the cusp of puberty, as spoken in her own voice. She is childish and immature, but she is wise beyond her years. She offers a fresh perspective on adult life that can only be offered by one who is not yet there." —Barbara Fleischer, PhD, clinical psychologist and psychoanalyst

"The Truth simply put is INCREDIBLE! It's a tween's journey about growing up (sometimes reluctantly) and learning about emotions, questions, doubt, first love, friendship, siblings, families, and all those components that make THOSE years frustrating, yet incredible!" —Eileen Strong, Strong Incentives professional speaker, trainer, and professor, and author of Who Stole My Confidence: 7 Rock Solid Steps To Take Yours Back! and Liars, Tigers, S.O.B.'s Oh My! Successfully Dealing With Difficult People

"Woven through the entertaining stories are messages of self-esteem, self-reliance, getting to know yourself, having adventures, and understanding parents and their limitations." —Sandra Prince-Embury, PhD, clinical psychologist at the Resiliency Institute of Allenhurst

"This wonderful story is about a girl on the cusp of puberty, as spoken in her own voice. She is childish and immature, but she is wise beyond her years. She offers a fresh perspective on adult life that can only be offered by one who is not yet there." —Barbara Fleischer, PhD, clinical psychologist and psychoanalyst

"The Truth simply put is INCREDIBLE! It's a tween's journey about growing up (sometimes reluctantly) and learning about emotions, questions, doubt, first love, friendship, siblings, families, and all those components that make THOSE years frustrating, yet incredible!" —Eileen Strong, Strong Incentives professional speaker, trainer, and professor, and author of Who Stole My Confidence: 7 Rock Solid Steps To Take Yours Back! and Liars, Tigers, S.O.B.'s Oh My! Successfully Dealing With Difficult People
or
Not Currently Available for Direct Purchase