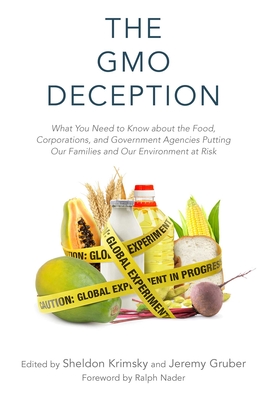 The GMO Deception (Hardcover)
What You Need to Know about the Food, Corporations, and Government Agencies Putting Our Families and Our Environment at Risk
Skyhorse, 9781628736601, 432pp.
Publication Date: June 3, 2014
Other Editions of This Title:
Paperback (4/12/2016)
* Individual store prices may vary.
Description
Seventy-five percent of processed foods on supermarket shelves—from soda to soup, crackers to condiments—contain genetically engineered ingredients. The long-term effects of these foods on human health and ecology are still unknown, and public concern has been steadily intensifying.

This new book from the Council for Responsible Genetics gathers the best, most thought-provoking essays by the leading scientists, science writers, and public health advocates. Collectively, they address such questions as:

Are GM foods safe and healthy for us?
Will GM food really solve world hunger?
Who really controls the power structure of food production?
Are GM foods ecologically safe and sustainable?
Why is it so difficult to get GM foods labeled in the US?
What kinds of regulations and policies should be instituted?
How is seed biodiversity, of lack thereof, affecting developing countries?
Should animals be genetically modified for food?
How are other countries handling GM crops?

Ultimately, this definitive book encourages us to think about the social, environmental, and moral ramifications of where this particular branch of biotechnology is taking us, and what we should do about it.
About the Author
Sheldon Krimsky is the Carol Zicklin Visiting Professor of Philosophy at Brooklyn College, the Lenore Stern Professor of Humanities and Social Sciences at Tufts University, and adjunct professor in the Department of Public Health and Community Medicine at the School of Medicine at Tufts University. He lives in New York City and Cambridge, Massachusetts.
Praise For The GMO Deception: What You Need to Know about the Food, Corporations, and Government Agencies Putting Our Families and Our Environment at Risk…
"The GMO Deception brings together essays by specialists in a wide range of fields united in skepticism about the benefits of GMOs for reasons grounded in in biology, social science, politics, and ethics. If you do not understand why there is so much opposition to GMOs, nationally and internationally, this book is the place to start." —Marion Nestle is professor of nutrition, food studies, and public health at New York University and author most recently of Eat Drink Vote: An Illustrated Guide to Food Politics

"Along with the perils facing our planet from climate change, there is no greater concern than the unforeseen impacts of GMOs on our food supply. This eye-opening collection of essays by numerous experts lays bare what global corporations like Monsanto are attempting to foist upon us, as well as how activists around the world are fighting back to preserve our children's future." —Dick Russell, environmental author

"The GMO Deception is the most comprehensive resource covering all areas of this complex topic from human health, environmental risks, and GMO labeling to biotech company seed monopolies and the impact of GMOs worldwide. The chapter authors, including Michael Hansen, Vandana Shiva, Frances Moore Lappé, Bill Freese, John Fagan, Michael Antoniou, Claire Robinson, Doug Gurian-Sherman, and Sheldon Krimsky, are some of the most distinguished, leading experts in revealing this global deception. The GMO Deception is a valuable resource for anyone interested in preserving the genetic integrity of food." —Ken Roseboro, editor and publisher, The Organic & Non-GMO Report

"Everyone needs to read this important book of essays on the sordid history of GMOs and their impact on the environment, agriculture and public health. Krimsky and Gruber have brought together an encyclopedia-like compendium of essays that provide the context for how this greedy and self-serving industry has forced their untested technology literally down our throats." —Wenonah Hauter, executive director, Food & Water Watch and author of Foodopoly: The Battle Over the Future of Food and Farming in America

"The GMO Deception brings together essays by specialists in a wide range of fields united in skepticism about the benefits of GMOs for reasons grounded in in biology, social science, politics, and ethics. If you do not understand why there is so much opposition to GMOs, nationally and internationally, this book is the place to start." —Marion Nestle is professor of nutrition, food studies, and public health at New York University and author most recently of Eat Drink Vote: An Illustrated Guide to Food Politics

"Along with the perils facing our planet from climate change, there is no greater concern than the unforeseen impacts of GMOs on our food supply. This eye-opening collection of essays by numerous experts lays bare what global corporations like Monsanto are attempting to foist upon us, as well as how activists around the world are fighting back to preserve our children's future." —Dick Russell, environmental author

"The GMO Deception is the most comprehensive resource covering all areas of this complex topic from human health, environmental risks, and GMO labeling to biotech company seed monopolies and the impact of GMOs worldwide. The chapter authors, including Michael Hansen, Vandana Shiva, Frances Moore Lappé, Bill Freese, John Fagan, Michael Antoniou, Claire Robinson, Doug Gurian-Sherman, and Sheldon Krimsky, are some of the most distinguished, leading experts in revealing this global deception. The GMO Deception is a valuable resource for anyone interested in preserving the genetic integrity of food." —Ken Roseboro, editor and publisher, The Organic & Non-GMO Report

"Everyone needs to read this important book of essays on the sordid history of GMOs and their impact on the environment, agriculture and public health. Krimsky and Gruber have brought together an encyclopedia-like compendium of essays that provide the context for how this greedy and self-serving industry has forced their untested technology literally down our throats." —Wenonah Hauter, executive director, Food & Water Watch and author of Foodopoly: The Battle Over the Future of Food and Farming in America
or
Not Currently Available for Direct Purchase