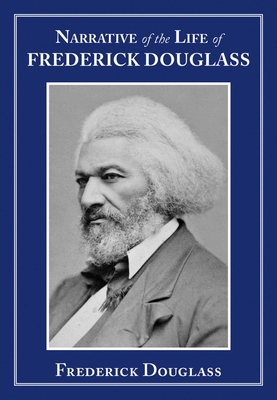 Narrative of the Life of Frederick Douglass
Paperback

* Individual store prices may vary.
Other Editions of This Title:
Paperback (9/26/2018)
Paperback (3/5/2020)
Paperback (2/23/2012)
Paperback (8/16/2018)
Paperback (5/31/2019)
Paperback (2/21/2020)
Paperback (11/29/2013)
Paperback (6/16/2011)
Paperback (9/1/2014)
Paperback (3/31/2020)
Paperback (4/15/2014)
Paperback (8/18/2018)
Paperback (1/22/2020)
Paperback (11/4/2009)
Paperback (7/23/2016)
Paperback (2/26/2020)
Paperback (11/14/2011)
Paperback (6/13/2013)
Paperback (10/28/2016)
Paperback (11/16/2015)
Description
The story of Frederick Douglass is passionate, harrowing, and inspiring. As a former slave, impassioned abolitionist, gifted writer, newspaper editor, and powerful orator, Douglass was an immense, motivational figure. His early life, filled with physical abuse, deprivation, and tragedy, adds up to a heart-wrenching history. However, he was able to overcome everything that bound a slave to his life and become a leading spokesman for his people.

In this first of his three autobiographies, Douglass relates graphic descriptions of his childhood, his shocking experiences as a slave, and his thrilling escape from slavery to safety in the North and his pivotal freedom.

Originally published in 1845, a date significant for the fact that very few African Americans could read or write at that time, this tale of sadness, danger, and eventual liberation will appeal to readers of all kinds. For those interested in African American history and the life of one of the most daring and heroic champions of civil rights, this page-turner is a perfect library addition.

Skyhorse Publishing, along with our Arcade, Good Books, Sports Publishing, and Yucca imprints, is proud to publish a broad range of biographies, autobiographies, and memoirs. Our list includes biographies on well-known historical figures like Benjamin Franklin, Nelson Mandela, and Alexander Graham Bell, as well as villains from history, such as Heinrich Himmler, John Wayne Gacy, and O. J. Simpson. We have also published survivor stories of World War II, memoirs about overcoming adversity, first-hand tales of adventure, and much more. While not every title we publish becomes a New York Times bestseller or a national bestseller, we are committed to books on subjects that are sometimes overlooked and to authors whose work might not otherwise find a home.
Skyhorse, 9781628737363, 112pp.
Publication Date: July 1, 2014
About the Author
Frederick Douglass (1818–1895) was an American social reformer, orator, writer, statesman—and former slave. After escaping from slavery, he became a leader of the abolitionist movement and stood as a living counterexample to slaveholders' arguments that slaves lacked the intellectual capacity to function as independent American citizens. In order to eloquently portray his life as a slave, he wrote three autobiographies: Narrative of the Life of Frederick Douglass, My Bondage and Freedom, and Life and Times of Frederick Douglass.
or
Not Currently Available for Direct Purchase