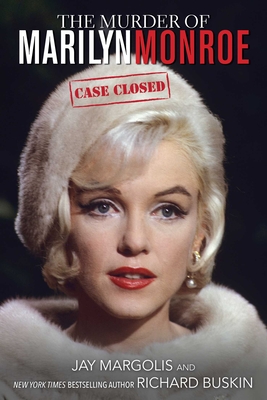 The Murder of Marilyn Monroe
Case Closed
Hardcover

* Individual store prices may vary.
Other Editions of This Title:
Paperback (9/20/2016)
Description
A New York Times Best Seller!

Since Marilyn Monroe died among suspicious circumstances on the night of August 4, 1962, there have been queries and theories, allegations and investigations, but no definitive evidence about precisely what happened and who was involved . . . until now. In The Murder of Marilyn Monroe: Case Closed, renowned MM expert Jay Margolis and New York Times bestselling author Richard Buskin finally lay to rest more than fifty years of wild speculation and misguided assertions by actually naming, for the first time, the screen goddess's killer while utilizing the testimony of eye-witnesses to exactly what took place inside her house on Fifth Helena Drive in Los Angeles' Brentwood neighborhood.

Implicating Bobby Kennedy in the commission of Marilyn's murder, this is the first book to name the LAPD officers who accompanied the US Attorney General to her home, provide details about how the Kennedys used bribes to silence one of the ambulance drivers, and specify how the subsequent cover-up was aided by a noted pathologist's outrageous lies. This blockbuster volume blows the lid off the world's most notorious and talked-about celebrity death, and in the process exposes not only the truth about an iconic star's tragic final hours, but also how a legendary American politician used powerful resources to protect what many still perceive as his untarnished reputation.

Skyhorse Publishing, as well as our Arcade imprint, are proud to publish a broad range of books for readers interested in history--books about World War II, the Third Reich, Hitler and his henchmen, the JFK assassination, conspiracies, the American Civil War, the American Revolution, gladiators, Vikings, ancient Rome, medieval times, the old West, and much more. While not every title we publish becomes a national bestseller, we are committed to books on subjects that are sometimes overlooked and to authors whose work might not otherwise find a home.
Skyhorse, 9781628737578, 352pp.
Publication Date: June 3, 2014
About the Author
Jay Margolis is a noted Marilyn Monroe author and expert who graduated from the University of Southern California summa cum laude (and did so a year early). For his distinguished paper on African American reparations, Margolis became a Jesse Unruh Research Scholar. He lives in Los Angeles, California.

Richard Buskin is a New York Times bestselling author and freelance journalist who specializes in film, music, television, and pop culture. His articles have appeared in newspapers and magazines around the world, and among the thirty nonfiction books that he has written are biographies of Marilyn Monroe, Princess Diana, Whitney Houston, and Sheryl Crow. A native of London, England, he lives in Chicago, Illinois.
or
Not Currently Available for Direct Purchase