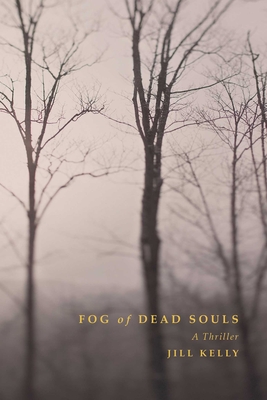 Fog of Dead Souls (Hardcover)
A Thriller
Skyhorse, 9781628737721, 272pp.
Publication Date: March 4, 2014
* Individual store prices may vary.
Description
When college professor Ellie McKay walks into the Maverick Bar in Farmington, New Mexico, late one evening, she plans to get drunk, not engaged. But within thirty minutes, she's met cowboy Al Robison, he's proposed to her, and she's accepted. Al only knows that Ellie is attractive, vulnerable, and single; he doesn't know that she has been on the run for weeks from a sociopath who killed her surgeon boyfriend in Pennsylvania and raped and tortured her.

Reeling from the ordeal and deeply scarred emotionally and physically, Ellie flees first to Paris, where she seeks refuge in the bottle. Then, coming to her senses, she returns to Pittsburgh to resume her life and her career, believing she will be safe there. When that proves untrue, she takes to the road, no longer caring much what happens to her.

Ellie's escape route leads her to Santa Fe and then north to Farmington, where Al seems the safest bet. When she says yes to Al's proposal, she knows only that he is a local rancher. She doesn't know about Al's own dark past, and she doesn't tell him that her heart belongs to Doug Hansen, the detective who originally investigated the case.

Skyhorse Publishing, as well as our Arcade, Yucca, and Good Books imprints, are proud to publish a broad range of books for readers interested in fiction—novels, novellas, political and medical thrillers, comedy, satire, historical fiction, romance, erotic and love stories, mystery, classic literature, folklore and mythology, literary classics including Shakespeare, Dumas, Wilde, Cather, and much more. While not every title we publish becomes a New York Times bestseller or a national bestseller, we are committed to books on subjects that are sometimes overlooked and to authors whose work might not otherwise find a home.
About the Author
Jill Kelly is a writer, painter, editor, and coach. Her first memoir, Sober Truths: The Making of an Honest Woman, was a finalist for the prestigious Oregon Book Award. She is the author of a second memoir, Candy Girl: How I Gave up Sugar and Created a Sweeter Life between Meals (2016), two thrillers (Fog of Dead Souls and its sequel Broken Boys) and a romance, The Color of Longing. Jill lives in Portland, Oregon, with four cats, many books, and two easels. She loves to hear from readers at jill@jillkellyauthor.com.
Praise For Fog of Dead Souls: A Thriller…
"Kelly's heroine is a refreshing sixty-year-old woman portrayed as an intelligent, desirable individual, and the men in Ellie's life are also attractive, mature men; this age bracket is sorely neglected in much of modern literature. . . . This is a solid book. Told mostly in alternating chapters, readers will find Kelly's work engaging. Fresh, compelling writing throughout." — Kirkus

"Kelly has created a dark, taut, character-driven novel that cracks the masks of relationships and shatters the heart with doubt." — S. M. Harding, Writing Murder: A Basic Guide to Writing Mystery Fiction

"Fog of Dead Souls is a layered thriller, rich with atmosphere, and with no shortage of mystery and police procedure. Deftly weaving together past and present, Jill Kelly creates a convincing portrait of a protagonist damaged yet unbroken by a terrible crime, a woman determined to move on with her life after unspeakable tragedy. If you're looking for a serial killer story with characters detailed and authentic enough to step right off the page, this one's for you." — James Hankins, author of Brothers and Bones and Jack of Spades

"Fog of Dead Souls is a twisting, suspenseful, and heartfelt book about real people facing the darkest and cruelest of mysteries. But the story is also shot through with hope, and when you tear through the final agonizing pages, you'll know you've been in the hands of a great storyteller, someone whose work reminds me a lot of Dean Koontz. Jill Kelly is the real deal and this is a riveting read." — David Bell, author of Never Come Back

"A chameleon of a novel, this meticulously planned thriller evolves into a spiritual quest, and kept me guessing with every page turn." — Ruth Dugdall, author of The Woman Before Me

"When I read Jill Kelly's memoir, Sober Truths, a few years ago, it was tough and uncompromising. I expected no less from her novel, Fog of Dead Souls. She has indeed delivered a taut, suspenseful read that had me guessing until the last few pages. I appreciate that the main characters are of a certain age, as well. You don't have to be young to be strong and smart." — Ed Goldberg, award-winning author of the Detective Lenny Schneider series

"A dark and disturbing thriller, and I loved every bit of it! The characters are three-dimensional and complex, and the story, which weaves the past with the present, is perfectly paced. A rock solid debut that kept me guessing right up until the very end." — Jennifer Hillier, author of Creep and Freak

"Kelly's heroine is a refreshing sixty-year-old woman portrayed as an intelligent, desirable individual, and the men in Ellie's life are also attractive, mature men; this age bracket is sorely neglected in much of modern literature. . . . This is a solid book. Told mostly in alternating chapters, readers will find Kelly's work engaging. Fresh, compelling writing throughout." — Kirkus

"Kelly has created a dark, taut, character-driven novel that cracks the masks of relationships and shatters the heart with doubt." — S. M. Harding, Writing Murder: A Basic Guide to Writing Mystery Fiction

"Fog of Dead Souls is a layered thriller, rich with atmosphere, and with no shortage of mystery and police procedure. Deftly weaving together past and present, Jill Kelly creates a convincing portrait of a protagonist damaged yet unbroken by a terrible crime, a woman determined to move on with her life after unspeakable tragedy. If you're looking for a serial killer story with characters detailed and authentic enough to step right off the page, this one's for you." — James Hankins, author of Brothers and Bones and Jack of Spades

"Fog of Dead Souls is a twisting, suspenseful, and heartfelt book about real people facing the darkest and cruelest of mysteries. But the story is also shot through with hope, and when you tear through the final agonizing pages, you'll know you've been in the hands of a great storyteller, someone whose work reminds me a lot of Dean Koontz. Jill Kelly is the real deal and this is a riveting read." — David Bell, author of Never Come Back

"A chameleon of a novel, this meticulously planned thriller evolves into a spiritual quest, and kept me guessing with every page turn." — Ruth Dugdall, author of The Woman Before Me

"When I read Jill Kelly's memoir, Sober Truths, a few years ago, it was tough and uncompromising. I expected no less from her novel, Fog of Dead Souls. She has indeed delivered a taut, suspenseful read that had me guessing until the last few pages. I appreciate that the main characters are of a certain age, as well. You don't have to be young to be strong and smart." — Ed Goldberg, award-winning author of the Detective Lenny Schneider series

"A dark and disturbing thriller, and I loved every bit of it! The characters are three-dimensional and complex, and the story, which weaves the past with the present, is perfectly paced. A rock solid debut that kept me guessing right up until the very end." — Jennifer Hillier, author of Creep and Freak
or
Not Currently Available for Direct Purchase