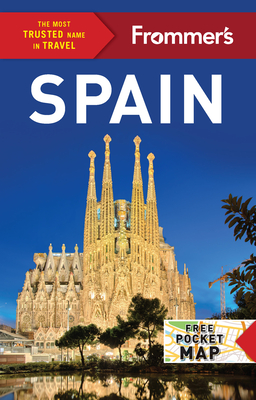 Frommer's Spain (Complete Guide) (Paperback)
Frommermedia, 9781628871487, 608pp.
Publication Date: August 26, 2014
* Individual store prices may vary.
Description
Written by outspoken, authoritative experts, Frommer's Spain shows travelers how to experience the country the way the locals do. This classic Frommers series includes exact prices; candid reviews of the best restaurants, attractions and hotels in every price range (from hostels to glamorous paradores); and dozens of detailed maps. We also include advice the tourist board wouldn't approve of: which sites to skip, how to avoid the crowds, and how to stretch your travel budget further, whether you're on a lavish honeymoon or backpacking it.

About the Author
Patricia Harris and David Lyon drove almost every twisting mountain road as they researched three previous Frommer's guidebooks about Spain. As much as they enjoy the countryside, they find themselves inexorably drawn to the great cities of Madrid and Barcelona, where Spanish life and culture are writ large. Founders of HungryTravelers.com, they have a deep appreciation for the perfect codfish croqueta, an honest plate of patatas bravas, or a heap of peel-and-eat-garlic shrimp, ideally consumed at an outdoor table in one of Barcelona's ancient squares or at the crowded bar in a Madrid taberna. They write about travel, food, wine, spirits and contemporary art for journals as varied as the Robb Report, the Boston Globe and Westways. They reside in Boston, MA.