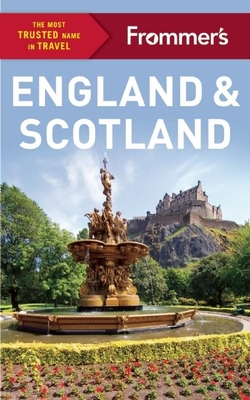 Frommer's England and Scotland (Color Complete Guide)
Paperback

* Individual store prices may vary.
Description
The British Isles are the single most popular trans-Atlantic destination for Americans, and an immense body of book-buyers will be the potential audience for this important new travel guide. It incorporates all the elements that have won best-seller status for Frommer's guidebooks: strong opinions colorfully expressed; up-to-date and recently researched information of all sorts; cost-conscious advice that covers every price range. This far-reaching guide of 600 some-odd pages, takes the visitor to every popular destination in England and Scotland, including Edinburgh, Glasgow, Bath, Oxford, Liverpool, Manchester, and more--and, of course, London. A fold-out map, numerous interior maps, and four-color photographs throughout, will make this an exceptionally valuable purchase.
Frommermedia, 9781628872064, 704pp.
Publication Date: November 3, 2015
About the Author
Stephen Brewer has been writing travel guides for almost three decades. As an editor and writer, he has focused on European coverage for such magazines as Esquire, Connoisseur and Geo. He has written several previous guides for Frommer's and Insight, as well as authoring Beautiful Small Coastal Towns for Rizzoli. Stephen resides in Manhattan. Jason Cochran was twice awarded Guide Book of the Year by the Lowell Thomas Awards (Society of American Travel Writers) and once by the North American Travel Journalists Association. His writing has appeared in the New York Post, Entertainment Weekly, Travel + Leisure, USA Today, and Budget Travel, among many others. Jason has appeared as a host and commentator on CBS, Fox and AOL, to name a few. He currently edits Frommers.com. Jason resides in New York City. Lucy Gillmore was the deputy travel editor at The Independent, but after eight years on the travel desk left London to move to Scotland. She specializes in travel and food and writes for newspapers such as The Guardian, The Independent and The Times and magazines including Food and Travel, Olive, House & Garden and Conde Nast Traveller. She also updated the Wallpaper City Guide to Edinburgh. After a couple of years in Edinburgh she headed even further north and now lives in the hills above Loch Ness in the Highlands. Donald Strachan is a writer and journalist who has written about Italy for publications worldwide, including National Geographic Traveler, The Guardian, Sunday Telegraph, and The Independent. He resides in London, England.