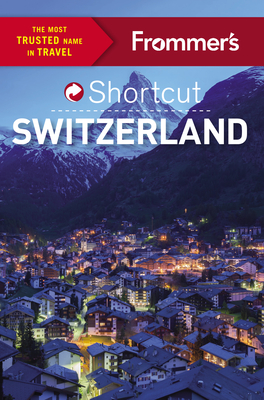 Frommer's Shortcut Switzerland (Shortcut Guide) (Paperback)
Frommermedia, 9781628872323, 192pp.
Publication Date: February 2, 2016
* Individual store prices may vary.
Description
For nearly 150 years, Switzerland has been a destination for immense numbers of tourists, who flock here to enjoy a nation of vacation riches. Though others may prefer to lie on a Spanish or French beach or tour a cultural capital like London or Paris, a steady multitude of other tourists go each year and in every season to experience the awesome views of the Swiss Alps, to ascend the mountains in funiculars or swoop down from them in skis, or to luxuriate in the superb amenities of Swiss resorts or to shop the boulevards of Swiss cities. Such names as Geneva, Zurich, Lucerne, Basel, Mont Blanc, Zermatt, set travelers to dreaming; and for them, our Shortcut Guide to Switzerland will prove a much-appreciated source of valuable information.

About the Author
Author, photographer and travel writer Teresa Fisher has had a life-long love affair with Switzerland, since her first visits to the ski slopes as a young child. Since then she has written extensively on the country for a variety of publishers including Frommer's, National Geographic and Thomas Cook. She is National Geographic Expeditions' Switzerland expert and lecturer. She has also penned over thirty guidebooks and children's travel reference books on a wide variety of destinations worldwide, and features periodically on BBC local radio as a travel adviser. Her travel features have appeared in such British publications as The Daily Telegraph, The Sunday Telegraph and the Sunday Times. For seven years, she lived in the Alps. Now, a mother of two, a fluent French and German speaker and a graduate in classical music, she is based in Gosport in the UK, but still spends much of her time skiing, sight-seeing or hiking in the Swiss Alps. The son of a Polish-born mother and an Austrian-born father, Arthur Frommer was drafted into the U.S. Army during the Korean War, but was stationed in Europe because of his fluency in German and Russian. During his service, he wrote and self-published a guidebook called The GI's Guide to Traveling in Europe in 1955 that was an immediate hit among his fellow soldiers. In 1957, Frommer created a civilian version called Europe on 5 Dollars a Day, which became an overnight best seller. He subsequently published guidebooks covering all parts of the globe. Frommer licensed his travel guide book business to Simon & Schuster in 1977. Eventually, the Frommer's series was purchased by John Wiley & Sons, and in August 2012, Google purchased the travel guides. Through all the exchanges, Arthur Frommer was always deeply involved with the guide books. In 2013, Frommer reacquired control of the guidebooks bearing his name and has come full circle, now self-publishing his iconic travel books again. Additionally, Arthur Frommer writes a travel column syndicated through King Features with his daughter Pauline Frommer, with whom he also co-hosts a weekly syndicated radio show, "The Travel Show with Arthur & Pauline Frommer." Arthur resides in New York City. Donald Strachan is a writer and journalist who has written about Italy for publications worldwide, including National Geographic Traveler, The Guardian, Sunday Telegraph, and The Independent. He resides in London, England.