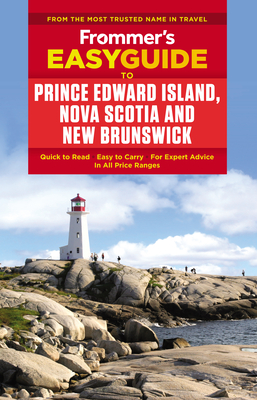 Frommer's Easyguide to Prince Edward Island, Nova Scotia and New Brunswick (Easy Guides)
Paperback

* Individual store prices may vary.
Description
Frommer's books aren't written by committee, or by travel writers who simply pop in briefly to a destination and then consider the job done. We employ the best local experts to author our guides, like Darcy Rhyno, a seasoned journalist born into a Nova Scotia fishing family, who has been traveling through the Maritimes since he was a small child and built his career writing in and about Atlantic Canada. Rhyno introduces readers to the best and most authentic restaurants, hotels, shops, attractions and nightlife in the Maritimes; and provides unique insights into their history, natural wonders and vibrant contemporary culture. Most importantly, he'll tell you straight out what's worth your precious vacation time...and what you can skip with no qualms. This light, portable book includes a fold-out map, plus detailed maps throughout the guide, exact pricing, opening hours, and the other important details that will make your trip smoother and less hectic. It features smartly conceived itineraries for travelers of all types and fastidiously researched information on the Maritimes' famed scenic drives and hiking opportunities. It offers savvy, sometimes sneaky, tips for saving money in ALL price ranges, whether you need to pinch pennies or can splash out a bit.

Frommermedia, 9781628872484, 288pp.
Publication Date: April 19, 2016
About the Author
Darcy Rhyno is a storyteller first. The author of three books of fiction as well as plays for stage and radio, he infuses his travel writing with character of place. Born to a fishing family in a Nova Scotia fishing village, he is a trusted bank of knowledge when it comes to Canada's Maritime Provinces. His award winning travel writing has appeared in publications such as Canadian Geographic Travel, BBC Travel and Dreamscapes.