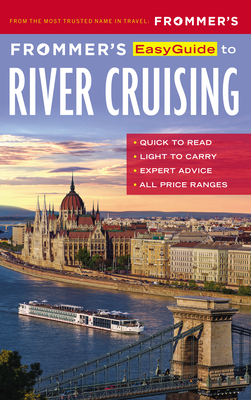 Frommer's Easyguide to River Cruising (Easy Guides)
Paperback

* Individual store prices may vary.
Description
Frommer's EasyGuide to River Cruising is the first book on the market to cover this wildly popular vacation activity. The book contains opinionated, no-holds-barred reviews of all of the major, and many of the smaller, river cruise lines (including specific reviews of their varying ship classes). These include advice on which boats offer the best value, which are best for luxury seekers, which will do the trick for foodies, which have high tech amenities, and which don't. One chapter is only on booking: where can one find discounts, why one should use a travel agent, what's the timing for reserving your cruise and more. In addition, the book will aid cruisers trying to choose the right river to sail, in chapters that span the globe. What are the highlights of the Amazon, the Irawaddy (in Myanmar), the Mississippi, the Nile, the Seine, the Volga or the Upper Danube (to name just a few)? The book answers these questions and many others, discussing what are the best shore excursions along all the major waterways of the world; what are the most rewarding destinations to add on, either before or after a cruise; and what are the most fun off-the-beaten-path activities and.
Frommermedia, 9781628872507, 368pp.
Publication Date: July 26, 2016
About the Author
Fran Golden is a well-known travel writer and creator of USA Today's Experience Cruise website. She is also chief contributor for the cruise magazine, Porthole. Former travel editor of the Boston Herald, she writes for numerous newspapers, magazines and websites including Virtuoso Life magazine and ShermansCruise.com, and is author or co-author of several travel books including Frommer's EasyGuide to Alaska Cruises and Ports of Call. Fran is married to fellow cruise writer David Molyneaux, and when they are not at sea they make their home in Cleveland. Michelle Baran is a senior editor at Travel Weekly, where she has been reporting on the travel and river cruise industries since 2007. She has covered everything from the Arab Spring in Egypt to Colombia shedding its cocaine past, from traveling alone as a woman abroad to traveling on a cruise ship along many of the world's most well-known rivers. Baran has sailed the Danube, Rhone, Volga, Mekong, Yangtze, Nile, Amazon, and Irrawaddy, among others. Her cover story about women traveling the globe solo, "Courage and Caution, was a 2014 finalist for a Folio magazine Eddie Award. Baran has also written about river cruising for Travel + Leisure, Travel + Leisure Southeast Asia and Budget Travel. Prior to Travel Weekly, Baran covered the fashion industry at Conde Nast's Footwear News. She received her Masters in Journalism from Northwestern University. Baran lives in San Francisco.