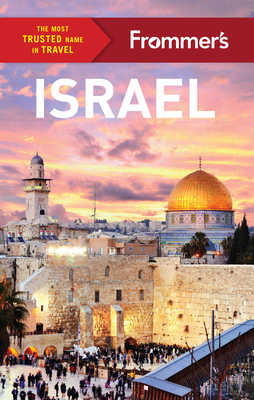 Frommer's Israel (Paperback)
Frommermedia, 9781628873221, 368pp.
Publication Date: January 15, 2017
* Individual store prices may vary.
Description
Though it's a small country, there are few places on earth as vibrant, history-rich and intriguing as Israel -- meaning that too many visitors end their vacation wishing they had more time. Let Frommer's expert Anthony Grant -- a long time resident of Israel -- show you how to create the perfect itinerary, whether you can explore for a week...or a month. This book includes: - Detailed information on the history and culture of Israel, so you can better understand what you're seeing
- Recommendations for hotels, restaurants, shops and attractions in all price ranges
- Exact pricing so there's never any guessing
- Dozens of detailed maps
- Full color photos
- Full size detachable map

About the Author
Anthony Grant had such an incredible time on his first trip to Israel that he barely remembers it - of course, he was just three years old. Repeat visits reminded him of both the infinite complexity of the Holy Land and its timeless allure. A veteran travel writer, he worked on an early version of The Atlantic's website before leaving the patrician confines of Boston's Back Bay to wander around the remotest corners of New England. The result of that was a deeper appreciation for cranberries and the prize-winning Rough Guide to Boston. A master's thesis on the Cyprus problem led to his work as communications officer for the Cyprus Tourism Organization in New York, while at the same time covering the city for both The Los Angeles Times and Access guides. And then came Paris, where in addition to guidebook work Anthony was travel correspondent for The New York Sun and worked at a famous celebrity photo agency just a few metro stops past the Eiffel Tower. He helped launch the website of the France24 international news channel before heading back to Manhattan in 2007, where he took on the position of Senior Editor at Forbes Traveler, a website. In 2010 The New York Times asked Anthony to file a dispatch on gay Tel Aviv and before he knew it he was producing the first-ever Israel travel guide for About.com. At that point he based himself in Tel Aviv where he worked as a commentator and media correspondent at a new Israeli television station. He has appeared on MSNBC, CNN and CBSN and produces a video blog called The Tel with a small Israeli team based mainly in Tel Aviv, covering media news and travel in Tel Aviv, the eastern Mediterranean region and beyond.