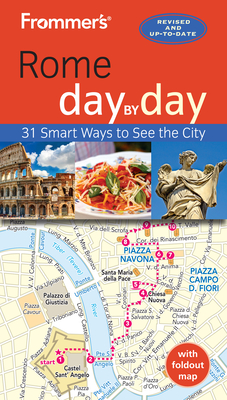 Frommer's Rome Day by Day (Paperback)
Frommermedia, 9781628873368, 194pp.
Publication Date: June 13, 2017
* Individual store prices may vary.
Description
Map your own adventure. Rome Day by Day is the perfect guide for travelers determined to know the top places to visit and the best way to see "Roma". It's written by noted travel journalist and long-time Italy resident Elizabeth Heath. She knows the city as only a local can. Packed with color photos, this bestselling guide outlines dozens of itineraries that show you how to see the best of the city in a short time, with bulleted maps leading the way from sight to sight. Featuring a full range of thematic and neighborhood tours, plus dining, lodging, shopping, nightlife, and practical visitor info, Rome Day by Day is the only guide that helps travelers organize their time to get the most out of a trip. Inside this book you'll find:
- Full-color images throughout, with hundreds of photos and dozens of maps
- Sample one- to three-day itineraries and neighborhood walks, including Ancient Rome, Vatican City, Piazza Navona & the Pantheon, the Underground City, Rome's Best Churches, and more
- Star ratings for all hotels, restaurants, and attractions to clue you in on great finds and values
- Info for planning romantic holidays in the city, as well as how to see important sights that are doable on a day trip, from Pompeii to the legendary seaport of Ostia Antica
- Tear-resistant foldout map in a handy, reclosable plastic wallet
- Foldout front cover with at-a-glance maps and quick-reference details

About the Author
A long-time contributor to Frommer's guides, Elizabeth Heath has also served as editor-in-chief to several regional magazines, and written articles on travel, business, celebrities, politics and lifestyle for local, regional and national publications. After falling in love with Italy on her first trip in 2000, she later fell in love in Italy. She now lives in the green hills of Umbria with her family, plus five dogs, several hundred olive trees and acres of grapevines. Liz writes about the peculiarities of life in the Italian countryside in her award-winning blog, My Village in Umbria.