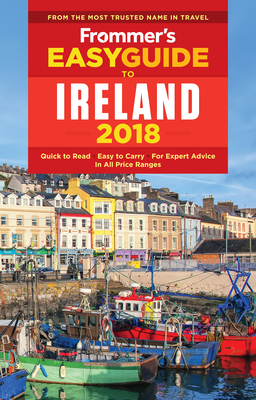 Frommer's Easyguide to Ireland 2018 (Easyguides) (Paperback)
Frommermedia, 9781628873542, 288pp.
Publication Date: October 24, 2017
* Individual store prices may vary.
Description
Meant to be carried with you as you travel, this highly portable, concisely-written book introduces travelers to one of the world's most richly rewarding destinations. It includes all of the nitty gritty details one needs to plan a trip, from hotels and restaurants to try, to savvy tips on the best ways to get around Ireland. Author Jack Jewers, who has been writing guidebooks to Ireland since 2006 (and is the proud grandson of an Irishwoman), provides an affectionate and insightful take on Irish culture and history that will greatly enhance your trip to the Emerald Isle.

Frommer's EasyGuide to Ireland contains:

Helpful maps, including a full-color fold-out map

Completely updated every year and printed in large, easy-to-read type.

Precise about pricing, with Euro and British Pound (for Northern Ireland) amounts listed for every attraction, restaurant, hotel, nightspot and shop in the guide--so there aren't any nasty surprises

Filled with information on the fascinating culture, history, art history and cuisine of Ireland that will make your visit richer

Laden with no-holds-barred reviews, which will introduce you to the country's most authentic lodgings (hotels, B&B's, castles), eateries, museums, historic and nature sight so you can stretch your budget further, whether you're a luxury-seeker or a backpacker.

About Frommer's: There's a reason that Frommer's has been the most trusted name in travel for more than sixty years. Arthur Frommer created the best-selling guide series in 1957 to help American servicemen fulfill their dreams of travel in Europe, and since then, we have published thousands of titles became a household name helping millions upon millions of people realize their own dreams of seeing our planet. Travel is easy with Frommer's.

About the Author
Jack Jewers has written about Ireland for Frommer's since 2006. Born in England, he loved listening to his great aunt's tales about life in Dublin during the civil war. Jack got engaged to his Irish-American wife at a spa on the Ring of Kerry. It gets a great review in this book.
or
Not Currently Available for Direct Purchase