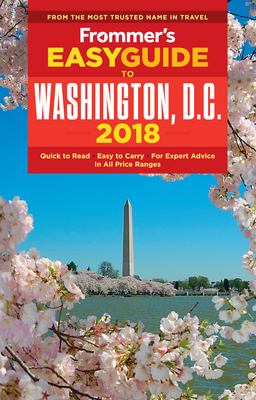 Frommer's Easyguide to Washington, D.C. 2018 (Easyguides) (Paperback)
Frommermedia, 9781628873689, 320pp.
Publication Date: November 14, 2017
* Individual store prices may vary.
Description
Washington, DC can be an overwhelming destination for visitors. With so many museums, so many historic sights, so many working government buildings to see--not to mention its scintillating foodie and nightlife scenes--just coming up with a plan can be stressful.
That's where Frommer's comes in. We've hired local journalist Elise Hartman Ford (a noted expert who has written for the Washington Post, Washingtonian Magazine, Ladies Home Journal and countless other publications) to give you the advice and details you need to create the right vacation for you. These include strategies for seeing the iconic sights without fighting the crowds; places that only locals know about; and smart itineraries so you can make the most of your time in the city.
The book includes:
Dozens of maps, including a handy fold-out map of the city and its underground train system to help you make the most efficient (and fun) use of your time in the Capitol

Exact pricing and public transportation information for every listing in the book, so there's never any guessing

Opinionated reviews which tell you which attractions are worth your time, and which will only be of interest to some visitors

Star ratings that take value into account, and will help you find the right hotels, restaurants, nightspots and shops for you, in all price ranges

Fun-to-follow, self-guided walking tours of DC's most intriguing neighborhoods

16-page photo guide with vibrant photographs, at the front of the book, plus black and white photos throughout
About Frommer's: There's a reason that Frommer's has been the most trusted name in travel for more than sixty years. Arthur Frommer created the best-selling guide series in 1957 to help American servicemen fulfill their dreams of travel in Europe, and since then, we have published thousands of titles became a household name helping millions upon millions of people realize their own dreams of seeing our planet. Travel is easy with Frommer's.
About the Author
Washington, DC writer Elise Hartman Ford has explored every angle of her city, from the top of the Washington Monument to the bottom of the legendary mint julep served at the Willard Hotel's Round Robin bar. She has covered DC's evolution from a small town into a global hotspot, and embraced the capital's local, national, and international scenes in all their variety, attending Washington Nationals ballgames, Kennedy Center performances, Supreme Court arguments, marches on the National Mall, and embassy concerts. She tours the White House and the Capitol as one administration cedes to the next and wanders neighborhoods from the city's center to its outskirts in pursuit of new or undiscovered charms. Her work has appeared in The Washington Post, Washingtonian magazine, National Parks magazine, the travel websites Mapquest Discover and Home & Abroad, and countless other national, regional, trade, and online publications. Ford is the author of several other guidebooks in addition to this one, and is currently the primary Washington, DC author for the new travel website BinduTrips. She resides in the Washington, DC metropolitan area.
or
Not Currently Available for Direct Purchase