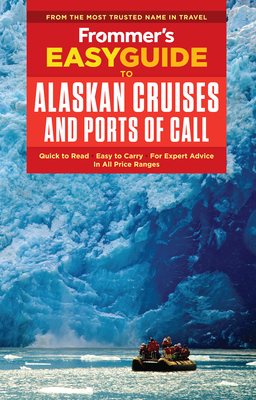 Frommer's Easyguide to Alaskan Cruises and Ports of Call (Easyguides) (Paperback)
Frommermedia, 9781628873764, 304pp.
Publication Date: March 13, 2018
* Individual store prices may vary.
Description
This is Alaskan cruising advice the way a friend would give it to you: fiercely opinionated, funny, and brimming not only with advice about which ships to pick and which itineraries will be most satisfying, but also what's not worth your time. We're proud that our Easy Guide to Alaska Cruises and Ports of Call is by two foremost experts on the subject: Fran Golden, who writes about cruising for USA Today among other publications and Sherri Eisenberg, the former Editor-in-Chief of Cruiseline.com. Together, they have been on far more than 100 cruises, and the results of that experience are strikingly evident in this exhaustively-researched guidebook.
Frommer's EasyGuide to Alaskan Cruises and Ports of Call contains: Stunning, full-color photos
Advice for families, honeymooners and seniors about which cruises will best for them with their widely varying needs and expectations
Authentic experiences to help you appreciate Alaska culture, nature sights and customs like a local
Candid reviews of the best restaurants, attractions, tours, shops, and experiences on land, and the best ships in each price range
Accurate, up-to-date info on useful websites, costs, booking tricks and more
Budget-planning help with the lowdown on prices and ways to save money, whether you're traveling on a shoestring or in the lap of luxury
About Frommer's: There's a reason that Frommer's has been the most trusted name in travel for more than sixty years. Arthur Frommer created the best-selling guide series in 1957 to help American servicemen fulfill their dreams of travel in Europe, and since then, we have published thousands of titles became a household name helping millions upon millions of people realize their own dreams of seeing our planet. Travel is easy with Frommer's.
About the Author
Sherri Eisenberg is a travel and food writer, editor, and author. A former editor at Travel Holiday, Brides, and Travel and Leisure magazines, she has written for numerous other magazines (including Condé Nast Traveler, and In Style) and newspapers (including The Los Angeles Times, The Boston Globe, and The Baltimore Sun). She is also the author of The Food Lovers' Guide to Brooklyn. Eisenberg lives in Manhattan and, no matter where she is in the world, she's convinced the food is better in her hometown of New York City--except for, maybe, in Paris. That she'll concede. Fran Golden is a well-known and award-winning travel writer. She is chief contributor for the cruise magazine, Porthole, and a contributing writer for Virtuoso Life magazine. Former travel editor of the Boston Herald, and creator of USA Today's Experience Cruise website, she writes regularly for newspapers, magazines and websites such as Bloomberg, the Los Angeles Times, Condé Nast Traveler, and the UK's World of Cruising. She is author or co-author of several travel books including Frommer's EasyGuide to River Cruising and has written extensively about Alaska since 1998. Fran is married to fellow cruise writer David Molyneaux, and when they are not at sea they make their home in Cleveland.