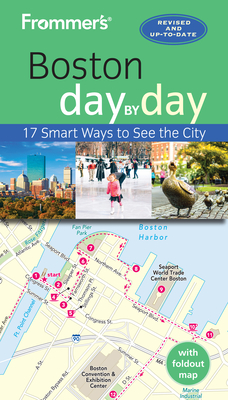 Frommer's Boston Day by Day (Paperback)
Frommermedia, 9781628874082
Publication Date: October 2, 2018
* Individual store prices may vary.
Description
Boston Day by Day is the perfect answer for travelers who want to know the best places to visit and the best way to see the city. This attractively priced, four-color guide offers dozens of itineraries that show you how to see the best of Boston in a short time--with bulleted maps that lead the way from sight to sight. Featuring a full range of thematic and neighborhood tours, plus dining, lodging, shopping, nightlife, and practical visitor info, Boston Day by Day is the only guide that helps travelers organize their time to get the most out of a trip. Inside this book you'll find:
- Full color throughout with hundreds of photos and dozens of maps
- Sample one- to three-day itineraries that include Boston with Kids, The Freedom Trail, Hidden Cambridge, and more
- Star ratings for all hotels, restaurants and attractions clue readers in on great finds and values
- Tear-resistant foldout map in a handy, reclosable plastic wallet
*Accurate, up-to-date info on transportation, useful websites, costs, telephone numbers, and more
About Frommer's: There's a reason that Frommer's has been the most trusted name in travel for more than sixty years. Arthur Frommer created the best-selling guide series in 1957 to help American servicemen fulfill their dreams of travel in Europe, and since then, we have published thousands of titles became a household name helping millions upon millions of people realize their own dreams of seeing our planet. Travel is easy with Frommers.
About the Author
Leslie Brokaw has co-authored over a dozen Frommer's guides since 2006, including Frommer's Montreal Day by Day and Frommer's EasyGuide to Montreal and Quebec City. She is a contributing editor for digital media for MIT Sloan Management Review and teaches at Emerson College. She resides in the Boston metropolitan area. Erin Trahan is a Boston-based writer and editor who specializes in film and travel. She teaches at Emerson College. She has written extensively for Frommer's Travel Guides. Erin lives in Marblehead, MA.