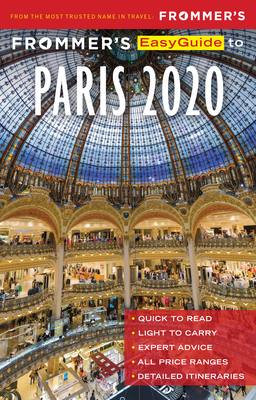 Frommer's Easyguide to Paris 2020
Paperback

* Individual store prices may vary.
Description
Paris leads the world's other cities in art and cuisine, in architecture and history, in music and sculpture, in philosophy and political ferment, in nearly every other area on interest to the visitor. It has to be seen and experienced, and done so in a thoughtful manner. Understanding the city's story and culture will add immeasurably to a trip to the "City of Light". Written by longtime Paris resident, Anna E. Brooke,
Frommer's EasyGuide to Paris 2020
is a portable tribute to the city and a roadmap to creating a hassle-free trip of a lifetime. From the world-famous panorama of the Champs-Elys e to the cathedral of Notre-Dame, from how to beat crowds at the Louvre to the ideal way to experience the Eiffel Tower, the book is packed with solid tips, is fully updated yearly, and includes:
- 16 pages of color photos
, plus dozens of more photos throughout
- Insider lists
of the city's highlights
- Local knowledge
on the best places to eat―and how to avoid tourist traps
- Detailed maps
marked with attractions, hotels, restaurants, and M tro stops
- Exact pricing for hotels
, restaurants, attractions, tours and more―plus invaluable advice about what you'll need to reserve in advance
- Full-color Paris M tro map - Brilliant walking tours
spanning the city, with maps
- A chapter of useful phrases
including a pronunciation guide
- Fascinating and easy-to-read
background on the culture, history and art of the City of Light
- Picks in all price categories
, so you can splurge or be frugal, using the Frommer's star rating system
- Full section on suggested side-trips
to Giverny, Versailles, Disneyland Paris, and more
- PLUS A handy pull-out, indexed map
of Paris
About Frommer's: There's a reason Frommer's has been the most trusted name in travel for more than 60 years. Arthur Frommer created the best-selling guide series in 1957 to help American servicemen fulfill their dreams of travel in Europe, and since then, we have published thousands of titles, become a household name, and helped millions upon millions of people realize their own dreams of seeing our planet. Travel is easy with Frommer's.
Frommermedia, 9781628874662, 320pp.
Publication Date: October 15, 2019
About the Author
Anna E. Brooke relocated from her native Britain to Paris in 2000 and hasn't looked back since. She is now a full-fledged bohemian, juggling life between freelance travel writing (Frommer's, Sunday New York Times Travel, Time Out Paris and the Financial Times), children's fiction, acting and songwriting for film.