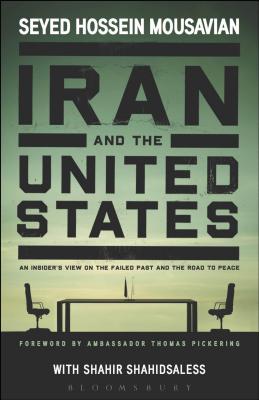 Iran and the United States (Hardcover)
Bloomsbury Publishing PLC, 9781628920079, 368pp.
Publication Date: May 22, 2014
Description
Scores of books have been written by Western experts, mainly American, looking at the root causes of the conflict between Iran and the US. However, none of them have presented an inside look at this complex relationship from within the Iranian culture, society, and most importantly, the Iranian policy-making system. This gap has been the cause of misperceptions, misanalyses, and conflict, followed by the adoption of US policies that have failed to achieve their objectives.
Seyed Hossein Mousavian worked for over 30 years on diplomatic efforts between Iran and the West, serving in numerous official posts, and as a confidante, colleague, and peer to many former and current high ranking Iranian officials, including now-President Hassan Rouhani and Iranian Foreign Minister Javad Zarif. Here the former diplomat gives an insider's history of the troubled relationship between Iran and the US. His unique firsthand perspective blends memoir, analysis, and never before seen details of the many near misses in the quest for rapprochement. With so much at stake, the book concludes with a roadmap for peace that both nations so desperately need.
About the Author
Ambassador Seyed Hossein Mousavian, PhD is Associate Research Scholar at the Program on Science and Global Security (SGS) at Woodrow Wilson School of Public and International Affairs, Princeton University. He is a former diplomat who served as General Director of Europe in Iran's Foreign Ministry, Ambassador to Germany, Head of the Foreign Relations Committee of Iran's National Security Council, as Spokesman for Iran in its nuclear negotiations with the European Union and Foreign Policy Advisor to the Secretary of Iran's National Security Council. His research focuses on improving Iran-US relations.Shahir Shahidsaless is an Iranian-Canadian political analyst and freelance journalist. He has extensively written analytical pieces surrounding Iranian foreign and domestic politics in general, and Iran-U.S. relations in particular. He received his MA in Geopolitics and Grand Strategy from the University of Sussex, UK.
Praise For Iran and the United States…
The future of U.S.-Iran relations will be one of the most important determinants of global stability in the coming years. This is a clear, incisive and thought provoking look at how Iran sees its relationship with the U.S., and a perspective shaped in the crucible of revolution can see its way to normalization of relations. Rich in detail, this is a must read insider account for all those interested in U.S.-Iran relations and future of U.S. foreign policy. - Vali Nasr, author of The Dispensable Nation: American Foreign Policy in Retreat
 Seyed Hossein Mousavian's direct experience throughout the 35 years of bitter hostility between the United States and Iran provides an articulate, authoritative understanding of the causes of the distrust, misperceptions, and missed opportunities that have poisoned relations between Iran and the United States--nations that were once close allies. Mousavian, as a student, scholar, and as a diplomat knows both countries well. Most importantly, at this time when an agreement to end the confrontation is possible, Mousavian details a workable roadmap showing how successful negotiations on nuclear issues can lead to the full restoration of civilized relations. - Ambassador William Green Miller
 Hossein Mousavian, a former negotiator for Iran, continues to provide a unique insight into Iran's policy perspectives and negotiating objectives. In Iran and the United States he adds a useful dimension to the literature on U.S.-Iran relations by recounting the history of these two powers as seen from Tehran. This account is fresh, readable and filled with original information and interpretations. - Gary Sick, Director,  Gulf/2000 Project (G2K) at Columbia University, USA, and author of All Fall Down: America's Tragic Encounter With Iran

Advertisement