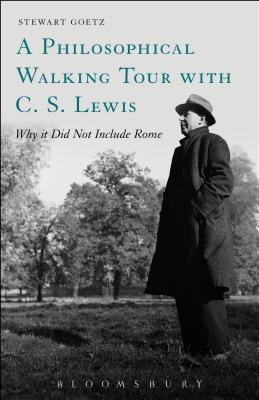 A Philosophical Walking Tour with C. S. Lewis
Why It Did Not Include Rome
Paperback

* Individual store prices may vary.
Other Editions of This Title:
Hardcover (12/1/2014)
Description
Although it has been almost seventy years since Time declared C.S. Lewis one of the world's most influential spokespersons for Christianity and fifty years since Lewis's death, his influence remains just as great if not greater today.
While much has been written on Lewis and his work, virtually nothing has been written from a philosophical perspective on his views of happiness, pleasure, pain, and the soul and body. As a result, no one so far has recognized that his views on these matters are deeply interesting and controversial, and-perhaps more jarring-no one has yet adequately explained why Lewis never became a Roman Catholic. Stewart Goetz's careful investigation of Lewis's philosophical thought reveals oft-overlooked implications and demonstrates that it was, at its root, at odds with that of Thomas Aquinas and, thereby, the Roman Catholic Church.
Bloomsbury Academic, 9781628923179, 200pp.
Publication Date: December 1, 2014
About the Author
Stewart Goetz is Professor of Philosophy and Ross Frederick Wicks Distinguished Professor of Philosophy and Religion at Ursinus College, USA. His past publications include The Purpose of Life: A Theistic Perspective (2012), The Soul Hypothesis: Investigations into the Existence of the Soul (co-edited with Mark C. Baker, 2010), and A Brief History of the Soul (co-authored with Charles Taliaferro, 2011).
or
Not Currently Available for Direct Purchase