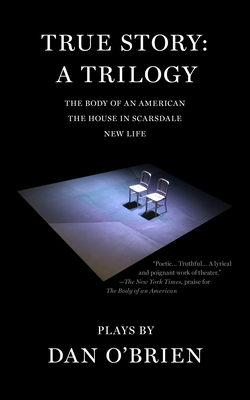 True Story
A Trilogy (American Literature)
Paperback

* Individual store prices may vary.
Description
True Story: A Trilogy gathers together three documentary plays by award-winning playwright and poet Dan O'Brien concerning trauma, both political and personal. The Body of an American speaks to a moment in history when a single, stark photograph--of a US Army Ranger dragged from the wreckage of a Blackhawk helicopter through the streets of Mogadishu--altered the course of global events. In a story that ranges from Rwanda to Afghanistan to the Canadian Arctic, O'Brien dramatizes the ethical and psychological haunting of journalist Paul Watson. In The House in Scarsdale: A Memoir for the Stage the playwright applies journalistic principles to investigating the source of his childhood unhappiness, as he searches for the reason why his parents and siblings cut him off years ago. The more he learns about his family, the more mysterious the circumstances surrounding their estrangement become, until his sense of self is shaken by rumors regarding his true parentage. The trilogy concludes with New Life, a tragicomedy that finds Paul Watson in Syria and the playwright in treatment for cancer, while together they endeavor to sell a TV series about journalists in war zones. New Life explores the paradox of war as entertainment, and dares to dream of healing after catastrophe. These three gritty yet poetic plays stand as a testament to the value of witnessing, honoring, and perhaps transcending the struggles of living.
Dalkey Archive Press, 9781628975130, 220pp.
Publication Date: July 11, 2023
About the Author
Dan O'Brien is a playwright, poet, librettist, and essayist. His recognition includes a Guggenheim Fellowship in Drama & Performance Art, the Horton Foote Prize, the Edward M. Kennedy Prize, and two PEN America Awards. A collection of his essays, A Story That Happens: On Playwriting, Childhood, & Other Traumas, was published by Dalkey Archive Press in 2021. He lives in Los Angeles with his wife, the actor and writer Jessica St. Clair, and their daughter Isobel.