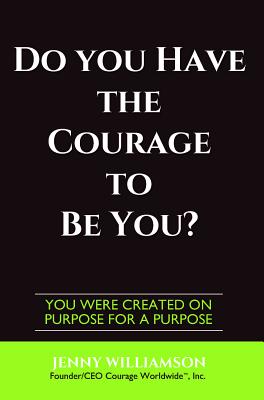 Do You Have The Courage To Be You? (Hardcover)
You Were Created On Purpose For A Purpose
Next Century Publishing, 9781629038339, 256pp.
Publication Date: April 7, 2015
* Individual store prices may vary.
Description
Before time began, you were imagined, planned, and created for a specific and unique purpose. There is something you were created to do and if you don't do it, it will never be done. It is urgent that you find the courage to be and do all you were created for. Someone is waiting for you to be you. Have you ever contemplated your particular purpose - the reason you are on this planet? Have you intentionally pursued your true identity and attempted to fulfill your destiny? Do You Have The Courage To Be You? If you answered "No" to any of these questions, but want to answer "Yes," then life coach, Jenny Williamson, will help you to do just that through the pages of this book.
Do You Have The Courage To Be You? was the provocative question that changed the entire trajectory of Jenny's life, and became the impetus used to propel her on a journey of discovering her water-walking, giant-slaying, history-making destiny. She prays it will do the same for you. As Jenny neared her fortieth birthday, she felt pitifully ordinary, was mired in mediocrity, and cloaked in comfort. She knew courage would be required for her to leave the known for the unknown.
What does it mean to have the courage to be you? What thought patterns or belief systems keep you from being you? What challenges must be faced? How do you find your unique purpose? Within this powerful book, Jenny answers these questions, while transparently sharing her own story. Her journey led her to a vulnerable group of children - children who are being sold for sex - who needed a home and a family.  
Where will your answers lead you? 
About the Author
Jenny Williamson is the Founder and CEO of Courage Worldwide, an international, non-profit organization that builds homes for children rescued out of sex trafficking around the world. With Courage Houses successfully open in Northern California and Tanzania, Africa, Jenny works tirelessly to see rescued children fully restored so they can then hear the life altering truth that they too were created on purpose for a purpose.  Courage Houses are a place where they can discover their true identity and fulfill their destiny. 
or
Not Currently Available for Direct Purchase