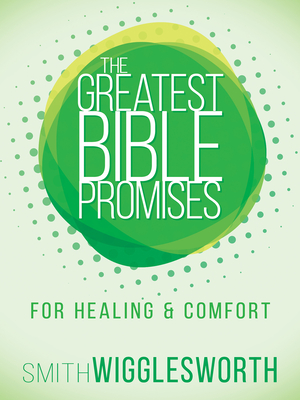 The Greatest Bible Promises for Healing and Comfort (Paperback)
Whitaker House, 9781629118703, 224pp.
Publication Date: April 4, 2017
* Individual store prices may vary.
Description
A promise for every problem.
God's promises are the substance of faith. The Greatest Bible Promises series represents much more than just books of Scripture arranged topically. Because the very term promise implies action, this series provides the reader with deeper understanding through accompanying insights from Smith Wigglesworth's greatest works.
"Blessed be God, even the Father of our Lord Jesus Christ, the Father of mercies, and the God of all comfort." (2 Corinthians 1:3)
Every trial is a hidden blessing. There have been times when we have been hard-pressed through dire circumstances. There is comfort in knowing that the hardest things are just lifting places into the grace of God. He is our Deliverer. This collection of Scripture promises helps the reader understand that, in these times, God wants to bring us through our needs and into the victory He has for us. Wigglesworth's wisdom helps us learn to let go of our challenges and see God take hold and hold us up.
Perfect for reading during quiet times, for sharing with others, and so much more Scripture selections are taken from the King James Version Easy Read Bible.
About the Author
Smith Wigglesworth (1859-1947), known as the Apostle of Faith, had an international evangelistic and healing ministry. A plumber by trade, Wigglesworth's life changed dramatically when, at age forty-eight, he was baptized in the Holy Spirit and anointed with power for preaching and healing. Signs and wonders characterized his ministry. His unquenchable faith inspired thousands to receive salvation, healing, and the filling of the Holy Spirit.