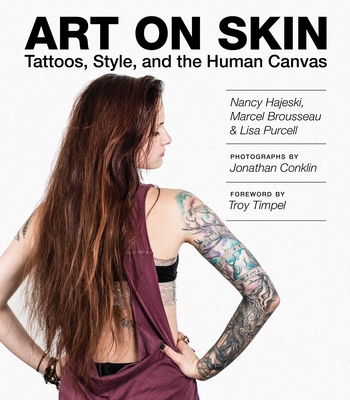 Art on Skin (Hardcover)
Tattoos, Style, and the Human Canvas
Skyhorse, 9781629142098, 224pp.
Publication Date: August 5, 2014
* Individual store prices may vary.
Description
A celebration of all things tattoo, this visually appealing wealth of tattoo knowledge will have you running for the nearest tattoo artist. The twenty-first century has seen a boom in tattooing, with millions of American's—23 percent of them—boasting ink on their body. This popular pastime is not something to be taken lightly, as there are dozens of aspects to consider when planning your ink. Art on Skin helps with that planning by detailing the different types of art, ink, and artists that pervade the industry.

Using striking visuals, Art on Skin showcases the beauty of the art of tattooing and aids in the choosing of a style, with detailed descriptions of the many different styles of tattoos, including fine art, cartoon characters, wildlife, and many more. The full-color photographs within these pages will leave you with dreams of your own pieces, and stories from others who have lived the tattoo experience will keep you from stumbling upon unwelcome surprises. This is the perfect book for tattoo lovers and prospective tattoo junkies of all kinds.
About the Author
Nancy Hajeski is an award-winning fiction author. Under the pen name Nancy Bulter, she is the bestselling author of Marvel Comics' adaptations of Jane Austen's Pride and Prejudice and Sense and Sensibility.
Marcel Brousseau is a freelance writer and author living in Santa Barbara, California.
Lisa Purcell is an artist and editor living in New York City.
Jonathan Conklin is a photographer based in New York City, specializing in food, fashion, and headshots.
Troy Timpel is a tattoo artist living in Philadelphia, Pennsylvania.