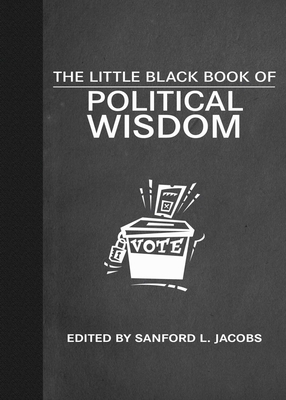 The Little Black Book of Political Wisdom (Little Red Books)
Hardcover

* Individual store prices may vary.
Description
Politics. It's a word that carries a great deal of weight, and there have been many words spoken about it ever since human beings decided it might be a good idea to come down from the trees and form some kind of government. The Little Black Book of Political Wisdom is an engaging collection of the wisest, funniest, and most insightful words ever said about the world of politics. Gathered here are hundreds of quotations from statesmen and stateswomen, philosophers, foreign leaders, journalists, and other politically astute observers from ancient times to present day.

Here are some examples:

"Politics, as a practice, whatever its professions, has always been the systematic organization of hatreds." —Henry Adams

"I have learned that one of the most important rules of politics is poise—which means looking like an owl after behaving like a jackass." —Ronald Reagan

"Politics are almost as exciting as war, and quite as dangerous. In war you can be killed once, but in politics many times." —Sir Winston Churchill

"We hang the petty thieves and appoint the great ones to public office." —Aesop

"Giving money and power to government is like giving whiskey and car keys to teenage boys." —P. J. O'Rourke
Skyhorse, 9781629144368, 224pp.
Publication Date: November 4, 2014
About the Author
Sanford L. Jacobs was a reporter, columnist, and feature writer at the Wall Street Journal for twenty years. Politics was a key part of his reporting when he covered the telephone industry, wrote the weekly Tax column, and later, the Small Business column. Elected officials, government bureaucrats, prosecutors, or judges often were key players in his stories. He lives in Pittsboro, North Carolina.
or
Not Currently Available for Direct Purchase